'Snaggletooth' the huge alligator captured swaggering on camera while hunting for a mate
It's mating season for gators.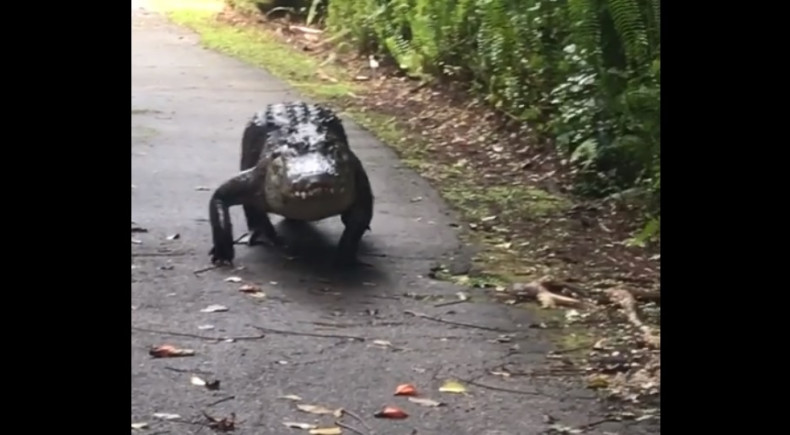 An alligator nicknamed Snaggletooth has been captured on the prowl on camera, sauntering down a road while on the lookout for a mate.
Carol Gowning, who works at Big Cypress Gallery Adventures, spotted the giant gator and posted a video of the animal to Facebook.
She wrote: "Watch all the way to end of video you won't believe what you see - Snaggletooth, making his way down our road behind Clyde Butchers Big Cypress Gallery in search of some more BABES!
"He is a remarkable creature. In keeping with park guidelines, and maintaining a 15 - 20 foot distance from any wild alligator, this animal has not shown signs of aggression toward any human.
"Instead, he has enabled many of us to witness what most people will never see or even come to know, true alligator behavior. The problems come from a gator that has learned to associate humans with food or as a physical threat."
Snaggletooth is a large and dominant bull alligator living in the Big Cypress National Preserve, in southern Florida.
"Measuring over 10 feet long, he may very well be over a quarter of a century old," Gowning wrote on Facebook. "He bears the distinctive feature of a large tooth that juts out abnormally from the right side of his lower jaw."
It's alligator mating season in Florida - and the animals have been spotted everywhere, even in swimming pools. The big dinosaur cousins have also shown up at the beach, in furniture stores and on roadways.
Gowning says Snaggletooth mated with "Big Momma" - a female alligator who recently had 32 babies.