Leading fans right up to the events of Star Wars (1977), Rogue One: A Star Wars Story revolves around a group of rebels, who catch wind that the Empire is developing a super-weapon that could wipe out the Rebellion for good. Forced to take action – albeit with the odds stacked against them – petty criminal Jyn Erso – daughter of the scientist behind the creation of the "planet-killer" – leads a ragtag team into the Imperial Army base in the hopes of stealing the plans for the dreaded Death Star.
Our verdict
Rogue One: A Star Wars Story
Absent of fan favourites Han Solo and Luke Skywalker and exclusively labelled as a spin-off, Rogue One: A Star Wars Story's differences to the main Episodic franchise are obvious from the get-go. Thrown straight into the action, audiences have no opening crawl to set the scene and soon realise that this is no place for Jedi, lightsabers or anything they've come to think of as recognisable within the space opera movies... which for some, could have been a turn-off.
Fortunately for those doubters, Rogue One has more tie-ins with the older films than it cared to admit to in the run-up to release, and both its territory and formula feel more and more familiar as the film goes on. Particularly for fans who prefer the original trilogy over the more modern films like The Phantom Menace and last year's The Force Awakens. Filled with callbacks that will satisfy the most devoted of fans, the film manages to offer up something fresh, both in tone - (its certainly the darkest outing yet) and plot too.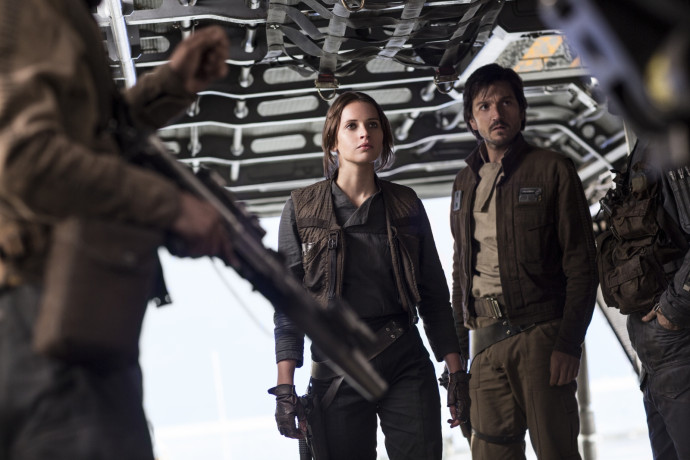 One thing that director Gareth Edwards and multiple cast and crew members haven't been so coy about in previous weeks however is the film's diversity, and while they've been quick to suggest that Rogue One isn't making a political statement, seeing so many actors of different races, genders and backgrounds on the big screen should not go without mention. It's a step in the right direction for Hollywood but never does it feel forced or like there were any "token" casting decisions.
It's clear every person was just the right person for the job and across the board, both actors and their characters are great, from Diego Luna's understandably aloof Captain Cassian Andor and Jiang Wen's matter-of-fact Baze Malbus to Riz Ahmed's Imperial defector Bodhi and Donnie Yen's blind badass Chirrut Îmwe, who proves a dab-hand at taking down Stormtroopers with nothing more than a staff (and a little help from the Force). It's Alan Tudyk's sarcastic droid K-2SO that steals the show however, providing well-needed comic relief at all the right moments.
Despite the new faces all being worthy additions to the expanding universe though, there's a lot of them to incorporate here and sometimes, you can't help but wish you had more screen time with a select few to really get a sense of who they are. Particularly protagonist Jyn (Felicity Jones), who, thrown into the midst of a raging war from a young age due to the disappearance of her father Galen (Mads Mikkelsen) and having grown-up in the care of an extremist rebel, evidently has her own demons.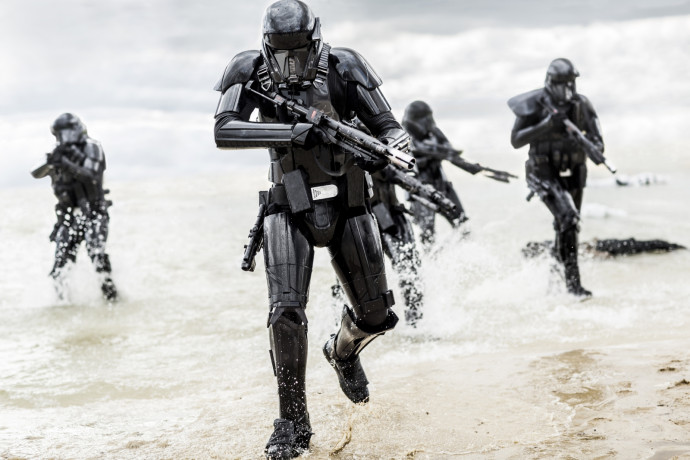 Much like the film's many heroes, Rogue One boasts more than one singular baddie too. Ben Mendelsohn's recognition-obsessed Director Krennic, a man instrumental in the development of the Death Star, makes for most of the story's villainous antics but Darth Vader has his fair share of epic moments as does an initially distracting but consistently menacing, Governor Moff Tarkin, courtesy of some mind-blowing CGI.
But then again, it's evident that this isn't a film about individuals but rather an exploration (and celebration) of unity, hope and the strength that can come from working as one in aid of a greater good, and there's something pretty beautiful about that. While screenwriters Chris Weitz and Tony Gilroy may have struggled to explore certain characters' personalities, they make up for it whenever the gang get together.
Like A New Hope, Return Of The Jedi and war movies in general, Rogue One's final act consists of an grand-scale battle where the main characters carry out a mission that almost seems suicidal. But with Rogue One, audiences arguably experience doubt for the first time across the series, wondering who is going to make it out alive making it essential that each second is impactful.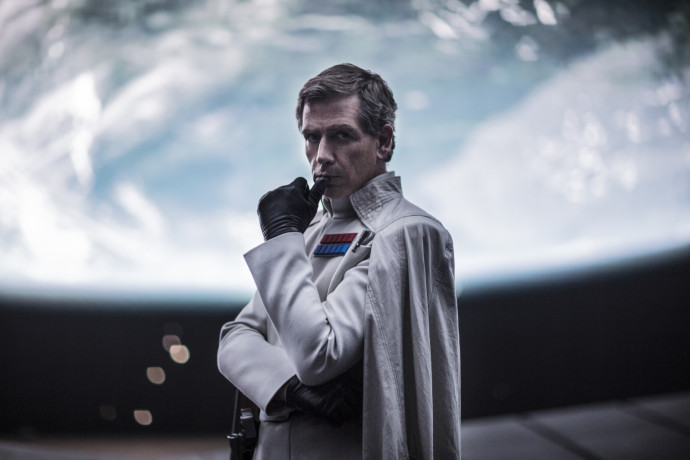 Weitz and Gilroy's no-fuss script allows each character to serve a purpose and have their own "moment" during the sequence, while it simultaneously pushes the story along at a steady pace towards an emotional and unexpected climax. Given that the overall plot is so simple, Edwards was clearly able to play around and pay close detail to said action sequences, presenting the galaxy in a way you've not seen before, as blaster rays whizz past, Deathtroopers storm beaches, X-wings fill the screens and AT-ATs stomp through rebels like ants.
More of an added bonus than an essential part of the ongoing Star Wars franchise, Rogue One makes for a thrilling couple of hours that seems more like optional viewing rather than an obligation, but that's all part of its charm. You feel like you're voluntarily learning a little more than you should when you're watching it and you come away feeling more engrossed in the overall story line than ever before.
There's something pretty admirable about a film that isn't continuing something for the sake of continuing, but rather adding value to movies that already exist and have been well loved since the late 1970's. Its got a sense of blissful finality to it considering that most will have some idea as to how this story ends and its refreshing in a time when never-ending blockbuster series reign supreme. With that in mind, Rogue One might not necessarily be a film that was needed but once the credits roll, you realise how much you desperately wanted it regardless.