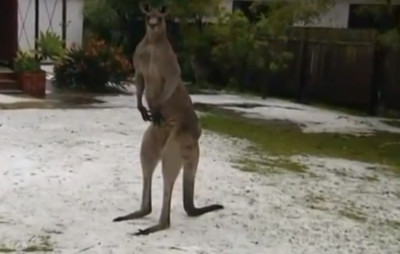 Eastern Australia has been covered in white as an unexpected spring snowfall covered huge swathes of the country.
Snow and high winds followed a very cold air mass that moved across the state of New South Wales, Australia's Bureau of Meteorology said.
Power was cut to 470 homes and businesses in the Blue Mountains, between the country's capital Canberra and Sydney, because of bad weather.
"We do get this late-season snow but it doesn't happen very often," meteorologist Julie Evans told the Herald Sun.
"The last time was in 2008 when we saw snow in the Snowy Mountains and central tablelands in November."
Down under, November is the equivalent of the Northern Hemisphere's spring.
Bushwalkers had to be rescued by helicopter when they became trapped in Kosciuszko National Park in the Snbowy Mountains, 460km south of Sydney.
Snow also hit Melbourne's state of Victoria, where a group of 11 students and three teachers were rescued after getting stuck while hiking.
Heavy rain caused disruptions in the Sydney metropolitan area and in stormy seas off the Sydney coast waves as high as 8 metres were reported.