Most people in Britain awoke on 19 January to find their country enveloped by a freezing blanket of snow and ice.The bad weather has already brought travel chaos, and more than its share of stories.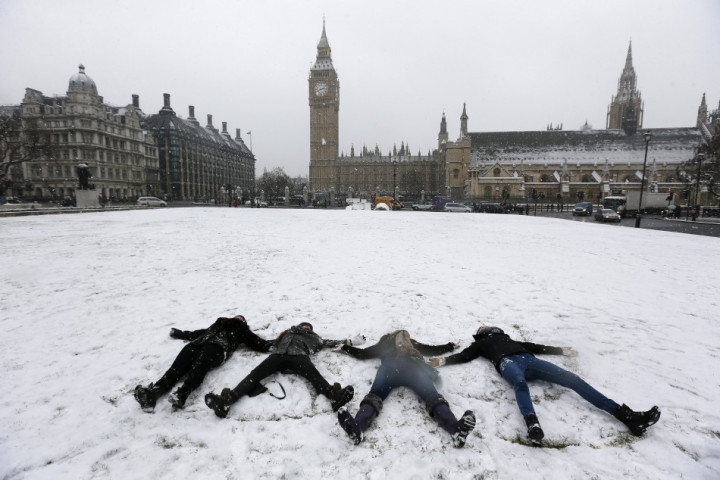 A woman was killed following a crash involving a number of vehicles in bad weather on the A1 at Little Ponton, near Grantham.
A mountain rescue operation was launched after a hillwalker went missing in the Cairngorms.
Angry residents blockaded a road in Newport, Isle of Wight and threw snowballs at police in protest at it not being gritted.
Sales of sledges have risen as 3,000 UK schools close and children head out to enjoy the snow.
More than 400 flights were cancelled at Heathrow airport, with hundreds of passengers spending the night on the floor as they waited for hours for rescheduled flights.
At the airport, just 2in (5cm) of snow was enough to cause a runway closure. This was despite bosses spending £36 million on a "winter resilience programme", including £11 million on snow ploughs and de-icing vehicles.
Simon Calder, travel editor of the Independent, said Terminal Five looked like a "refugee camp", with thousands of people waiting for flights.
A spokesman for British Airways said: "Due to the severe weather, there will be knock-on disruption to flights today and we would strongly advise customers to check the very latest status of their flight via ba.com before coming to the airport.
"Only customers with a confirmed booking on a flight which is operating should come to the airport.
"We are keeping our schedule under constant review and will adjust it further if we need to. We apologise for the inconvenience caused."
On the roads, there are warnings of further disruption. Darron Burness, the AA's head of special operations, said: "With the snow compacting down and turning icy, we're likely to see treacherous driving conditions throughout the weekend.
"Any fresh snow on top will just add to the problems."
The Met Office is forecasting less snow, but has issued yellow warnings for ice over much of the country. The Highways Agency said its fleet of snow ploughs and gritters will continue to be out in force to ensure roads are passable.
Friday's snowfall reached 26cm (10in) in Sennybridge, in Powys, while elsewhere there was 16cm in Filton, near Bristol, 12cm in Brize Norton, Oxfordshire, and 10cm in Nottingham, according to the BBC Weather Centre.
The AA advised that the combination of compacting snow and continued icy temperatures could prove hazardous for drivers. 'We're likely to see treacherous driving conditions throughout the weekend and any fresh snow on top will just add to the problems,' a spokesman warned.
The RAC said it had rescued a number of stranded motorists in west Wales and parts of Wiltshire, South Gloucestershire and Hampshire, while the AA said it had received about 900 distress calls an hour in England and Wales.
Click here for more pictures of Britain's big freeze.