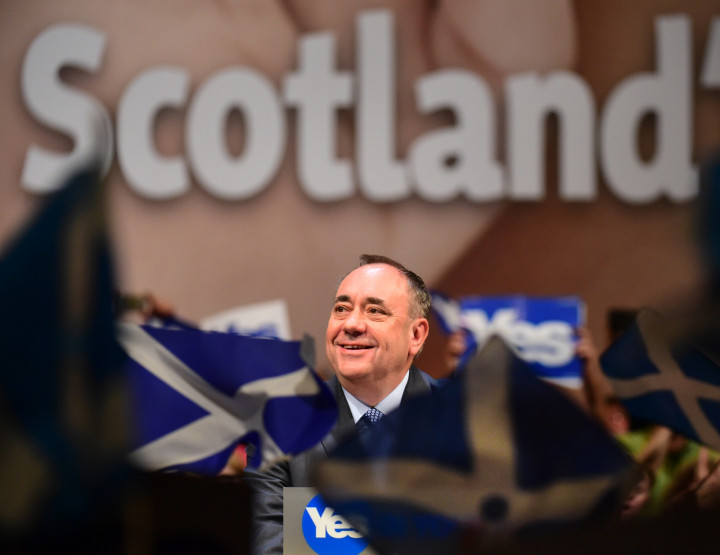 The number of members for Alex Salmond's Scottish National Party (SNP) has nearly doubled in under a week to become the third biggest party in the UK.
Despite losing the historic Scottish referendum to Better Together's 'No' campaign, Salmond's party saw a surge in membership as political interest in the country appeared to carry on from its 85% voting turnout.
As of the morning of 23 September, the number of SNP members stands at more than 47,000 compared with 25,000 on the day the polls closed in the referendum on 18 September.
The rise of 22,000 members since the end of the referendum now means the SNP party is the third-biggest in the UK, ahead of both the last confirmed numbers for the Lib Dems (43,000) and Ukip (38,000).
SNP business convener Derek Mackay said: "Scotland's referendum was an incredible triumph of democracy and the new wave of democratic engagement and activism the Yes campaign inspired shows no signs of stopping.
"That over 22,000 new members have joined the SNP in the last few days is incredibly encouraging and confirms that it is the SNP that the people of Scotland trust to work in Scotland's best interests."
The Scottish Green Party, who were also a part of the Yes campaign, experienced a surge in support too, with 3,000 supporters joining since 19 September.
Salmond released the figures ahead of the opening of Scottish parliament. The outgoing First Minister and SNP leader is expected to call on politicians to lower the minimum voting age to 16 at next year's general election.
Meanwhile, Labour leader Ed Miliband will tell the people of Scotland they made the right decision in voting against breaking up the 307-year Union.
He will tell delegates at the Labour Party conference in Manchester: "We will show the people of Scotland over the coming years that they made the right choice; because we are better together."
Scotland voted against independence by a majority of 55% to 45%.