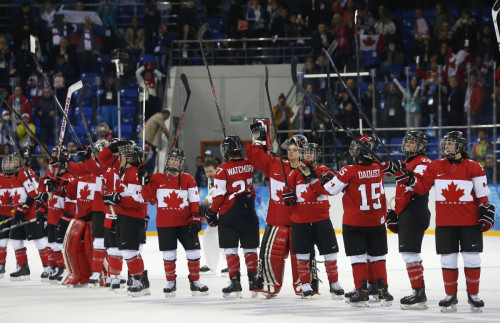 Defending champions Canada take on Switzerland in the semi-final of the Women's Ice Hockey at the Shayba Arena in Sochi 2014 Winter Olympics on Monday.
Where to Watch Live
The opening face-off is set to begin at 5:00pm GMT. Live coverage of the game will be available on BBC2, red button, radio and BBC Online.
Route to Semi-final
Canada topped Group A after defeating the US 3-2 in their third and final game of the Preliminary round. They began their Gold Medal defence winning their first game against Switzerland thumping Rene Kammerer's side 5-0.
Jocelyne Larocque and Tara Watchorn smashed the puck beyond goaltender Florence Schelling to make it 2-0 for Canada in the first period. Hayley Wickenheiser, Marie-Philip Poulin and Rebecca Johnston scored three more to make it 5-0 for Kevin Dineen's side.
The two victories gave Canada a 3-0 victory against Finland which meant Canada take all nine points in this round.
Meanwhile, Switzerland took the long route into the semi-finals after finishing as the bottom side in Group A losing all three of their matches. Following the 5-0 defeat in the opening game, they suffered a humiliating 9-0 defeat to the US. In their last fixture, they lost to Finland 4-3 on over-time after the teams were tied 3-3 at the end of 60 minutes.
However, Switzerland's progress into the semi-final came after defeating Group B toppers Russian Federation in the quarter-finals. Stefanie Marty and Lara Stalder scored in the first and third periods of the game to pull off a shock 2-0 victory against Mikhail Chekanov's side.
The winner of this semi-final will take on the winner between the US and Sweden on 20 February.
What They Say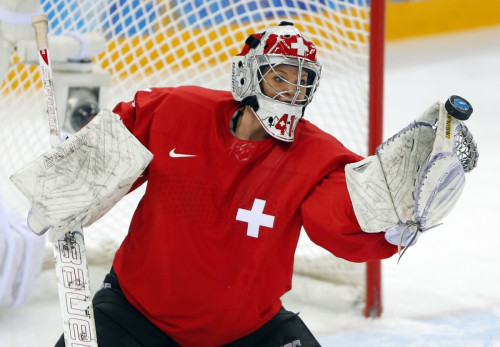 Caroline Oullette (Canada - Captain): "Well I think that we can be proud about what we've accomplished so far but we know that there is so much work ahead and it's going to get tougher and tougher. We want to make it to that final game for the chance to win Olympic gold. There are some things we need to review from our game against the US and we have to be ready for the team that we are going to play in the semi-final."
Rene Kammerer (Switzerland - Head Coach): "I am so proud of the staff and the players. We had good preparation going into this game [against Sweden], especially about how to handle the noise from the home fans. We will enjoy this victory but we can't just simply tell our girls to win the next match. Plan A is to win and then we are guaranteed at least a silver. I hope people know how dangerous we are now."
Team Form
Canada
In Sochi 2014 (Last Three, most recent first): W W W
Last Result: Canada 3-2 USA
Switzerland
In Sochi 2014 (Last Four, most recent first): W L L L
Last Result: Switzerland 2-0 Russia
Team News
Canada
Goaltenders: Charline Labonte; Shannon Szabados
Defenders: Catherine Ward, Tara Watchorn; Lauriane Rougeau, Laura Fortino; Jocelyne Larocque, Meaghan Mikkelson
Forwards: Rebecca Johnston, Jayna Hefford, Marie-Philip Poulin; Meghan Agosta-Marciano, Hayley Wickenheiser (+A), Natalie Spooner; Jennifer Wakefield, Gillian Apps, Melodie Daoust; Caroline Oullette (+C), Brianne Jenner
Switzerland
Goaltenders: Florence Schelling; Sophie Anthamatten
Defenders: Julia Marty (+C), Angela Frautschi; Lara Stalder, Nicole Bullo; Sarah Forster, Laura Benz, Sandra Thalmann; Livia Altmann
Forwards: Stefanie Martie, Sara Benz (+A), Nina Waidacher; Alina Muller, Anja Stiefel, Phoebe Stanz; Evelina Raselli, Jessica Lutz; Karin Nabholz, Eggimann Romy