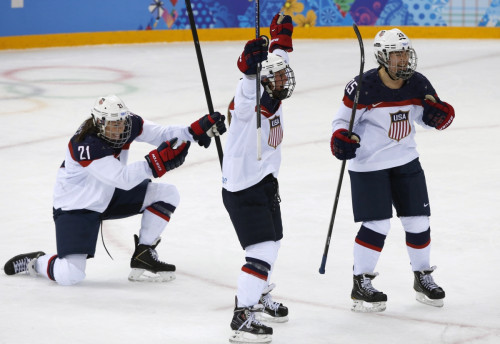 The US and Sweden battle it out in the last four for a place in the final of the Women's Ice Hockey Tournament at the Shayba Arena in Sochi 2014 Winter Olympics.
Where to Watch Live
The opening face-off is set to begin at 1:30pm GMT. Live coverage of the game will be available on BBC2, red button, radio and BBC Online.
Route to Semi-final
Runners-up in the 2010 Winter Olympics, US, come into the game after qualifying as the second placed team in Group A. Katey Stone's side secured six points in the preliminary round before losing out to Canada in their last fixture.
The Americans started strongly in their previous game and took the lead in the second period courtesy of Hilary Knight's effort. However, the Canadians bounced back to in the final period of the game to lead 3-1 with Hayley Wickenheiser's goal sandwiched between Meghan Agosta's brace. With less than two minutes remaining, Anne Schleper made it 3-2 and the game ended with the same score line.
Prior to their loss, the US won both their games against other teams in the group defeating Finland 3-1 then following that up with a 9-0 mauling of Switzerland.
In the preliminary stage, Sweden finished second in Group B after losing the third game 1-3 to Russian Federation. However, Niclas Hogberg's side secured the second spot in the group courtesy of wins against Germany (4-0) and Japan (1-0).
Finland who finished third in Group A were pitted against Sweden in the quarter-finals and the latter emerged victorious by four goals to two.
Finland took the lead in the second period with Venla Hovi netting the first goal of the game. The third period witnessed five goals from both sides as Anna Borgqvist and Lina Wester scored for Sweden before Emma Nuutinen levelled. Emma Eliasson and Emma Nordin's goals as the game progressed sealed a place in the semi-final for Niclas Hogberg's side.
Whoever emerges victorious in the fixture will take on either Canada or Switzerland for the goal medal on 20 February.
Team Form
USA
In Sochi 2014 (Last Three, most recent first): L W W
Last Result: Canada 3-2 USA
Sweden
In Sochi 2014 (Last Four, most recent first): W L W W
Last Result: Finland 2-4 Sweden
Team News
USA
Goaltenders: Jessie Vetter; Molly Schaus
Defenders: Gigi Marvin, Kacey Bellamy; Megan Bozek, Anne Schleper; Michelle Picard, Josephine Pucci; Lee Stecklein
Forwards: Kelli Stack, Hilary Knight, Alex Carpenter; Brianna Decker, Kendall Coyne, Amanda Kessel; Monique Lamoureux, Meghan Duggan (+C), Jocelyne Lamoureux; Julie Chu, Lyndsey Fry
Sweden
Goaltenders: Valentina Wallner; Kim Martin Hasson
Defenders: Lina Backlin, Emilia Andersson; Linnea Backman, Emma Eliasson; Johanna Olofsson (+A), Josefine Holmgren; Sofia Engstrom
Forwards: Jenni Asserholt (+C), Lina Wester, Pernilla Winberg; Anna Borgqvist, Erika Grahm (+A), Emma Nordin; Cecelia Ostberg, Maria Lindh, Michelle Lowenhielm; Fanny Rask, Erica Uden Johansson