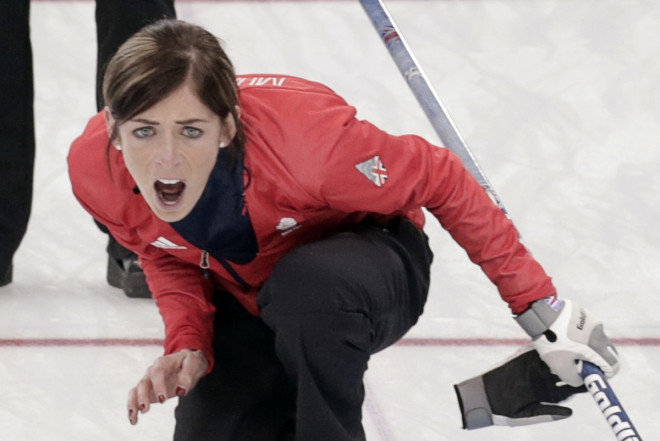 Great Britain have equalled their highest ever Winter Olympic medal haul after claiming bronze in the women's curling competition after beating Switzerland in Sochi.
The rink of skipper Eve Muirhead, Anna Sloan, Vicki Adams and Claire Hamilton prevailed 6-5 against the two-time silver medallists to secure Britain's fourth guaranteed medal of the Games – the most since the first Olympics in Chamonix in 1924.
After Jenny Jones' snowboard slopestyle bronze, Lizzy Yarnold's skeleton gold and the men's curling team led by David Murdoch secured a medal after reaching the final, the British quartet have helped eclipse the original medal target set by UK Sport.
Coached by gold medallist from Salt Lake City in 2002 Rhona Martin, the quartet are the youngest team to win an Olympic curling medal, adding to their world title won with Scotland in 2013.
"Words can't describe it now but it's fantastic and it could have gone either way," said Muirhead. "When we chased it we came up with the goods and we couldn't happier.
"When you looked at our success the one were missing was the Olympic medal. We're so, so happy. We all support each other and we're delighted to finish the Olympic games in a high."
Having blanked the first end, the Swiss took a 2-0 lead with the hammer after Murihead misjudged a hit and roll behind a GB guard, which allowed Mirjam Ott to grab an easy two.
The 42-year old and former world champion was then able to restrict the damage in the third end, securing a double takeout, forcing Muirhead to settle for one to only halve the deficit.
But in the third end Muirhead produced an inspired final stone, curling in behind the Switzerland guard to limit their opponents to just one as they re-established their two-point lead.
Britain were struggling to create any momentum but went into the half-way point level at 3-3 after securing a double take-out with the penultimate stone.
And the break saw a swing in momentum as Ott failed to grab a two on the sixth end and after GB blanked the seventh Muirhead produced the perfect draw to thrust GB into the lead.
Muirhead's rink appeared on the brink in the ninth, lying with three but the experience of Ott came to the fore to level the match, but relinquished the hammer to GB in the final end.
And Britain took full advantage, taking the required one point to claim a historic bronze.
Elise Christie in the ladies' 1000m short track speed skating and the men's four-man bobsleigh team are both contenders for medals in the final days of the Games which could take Team GB to their most successful Winter Olympics ever.