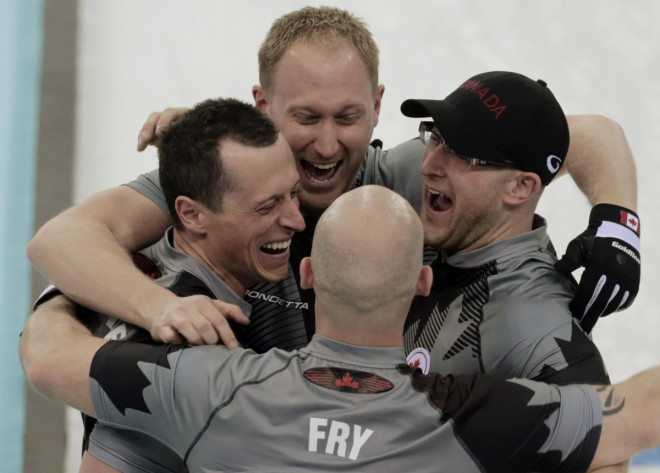 Great Britain's men walked away with a silver medal after suffering a heavy defeat to Canada in the curling final at the Winter Oympics in Sochi.
The reigning champions dominated from the start as David Murdoch's rink struggled to rediscover the meomentum that lifted them above Sweden in Wednesday's semi, as Brad Jacobs' Canada eased to a 9-3 victory.
Canada's win ensured gold medal success both the men's and women's curling teams after Jennifer Jones led her side to victory over Sweden on Thursday, and was the third successive triumph for the men whose dominance of the event stretches back to 2006.
Despite defeat, Britain's silver alone was enough to help secure their highest ever Winter Olympic medal haul dating back to the 1924 Chamonix Games.
On Thursday the women's curling team clinched a bronze medal in their third place playoff victory over Switzerland to confirm four medals following Jenny Jones' snowboard slopestyle bronze and Lizzy Yarnold skeleton gold.
"We just never got off to a good start," Murdoch told BBC Sport following the defeat. "We were struggling after three, and when you go 5-1 down to a team of that calibre it's extremely difficult to come back.
"I'm disappointed now but a silver medal is scarily cool. I think I'll appreciate it in about 10 minutes."
Signs of Canada's dominance of the event were evident from the start as they quickly strode into a 2-0 lead which stretched to 5-1 after just three runs. The assurance and poise that emanated from Murdoch and his rink of Greg Drummond, Scott Andrews and Michael Goodfellow throughout the Games couldn't be summoned even after the interval, as the favourites opened up a 8-2 lead.
And with two regulation ends remaining the Canadian's confirmed their 9-3 win.
With one more medal possibly to come with Elise Christie's 1000m speed skate event to come, Team GB have already surpassed UK Sport's medal target of three for the 2014 Winter Olympics.