Social media users poke fun at Trump adviser Kellyanne Conway's 'alternative facts' comment
Kellyanne Conway defended White House press secretary Sean Spicer saying he provided "alternative facts".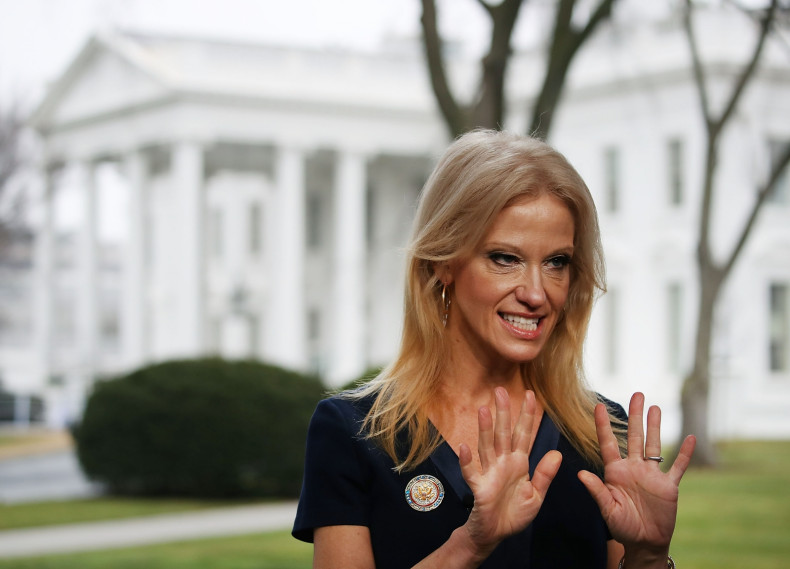 Social media users were quick to jump on President Donald Trump's senior adviser Kellyanne Connway's comments defending Sean Spicer's infamous news conference on Sunday (22 January).
During his first press briefing on Saturday, White House press secretary Spicer criticised the media for under-reporting audience numbers at Trump's inauguration on 20 January falsely claiming that "this was the largest audience to ever witness an inauguration, period".
On NBC's Meet the Press, Conway said Spicer gave reporters "alternative facts". Chuck Todd quickly retorted saying: "Look, alternative facts are not facts. They're falsehoods."
However, people immediately took to social media to mock Conway's statements using the hashtag #AlternativeFacts with some hilarious responses.
"#AlternativeFacts is perhaps the greatest Real Housewives term I have ever heard," Emmy Award-winning host Andy Cohen wrote. "I can't believe we haven't heard it on a reunion."
NSync's Lance Bass tweeted: "As a member of the @backstreetboys, I had a love child with @BettyMWhite. #AlternativeFacts."
Spicer's comments at the press briefing also triggered a wave of jokes and memes on social media with the hashtag #SeanSpicerFacts and #SeanSpicerSays. Others also voiced serious concerns over the precedent their statements set moving forward.
"Kellyanne Conway just coined a very dangerous phrase like it's the most normal thing in the world," Scandal actor Tony Goldwyn tweeted.
White House chief of staff Reince Priebus hit back at the media saying they have been trying to "de-legitimise" the newly-inaugurated president "from day one".
"We're not going to sit around and take it," Reince said on Fox News Sunday, adding that the government will "fight back tooth and nail every day and twice on Sunday".
Legendary news anchor Dan Rather wrote in a Facebook post on Sunday that these are "not normal times. These are extraordinary times" that call for "extraordinary measures".
"When you have a spokesperson for the president of the United States wrap up a lit in the Orwellian phrase 'alternative facts,'" Rather wrote. "When you have a press secretary in his first appearance before the White House reporters threaten, bully, lie and then walk out of the briefing room without the cajones to answer a single question.
"When you have a president stand before the stars of the fallen CIA agents and boast about the size of his crowds (lies) and how great his authoritarian inaugural speech was... These are not normal times."
He said the press, political leaders of both parties and the public have "never seen anything like this before", and urged journalists to demand follow-ups and push for satisfactory answers from officials.
"Facts and the truth are not partisan," he continued. "They are the bedrock of our democracy. And you are either with them, with us, with our Constitution, our history and the future of our nation, or you are against it. Everyone must answer that question."