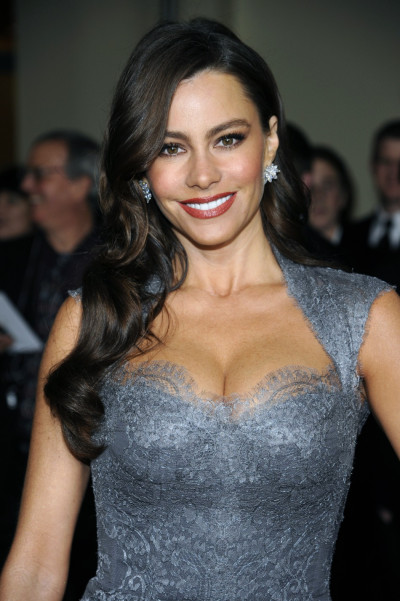 Colombian actress and star of popular television sitcom Modern Family, Sofia Vergara recently celebrated her 40th birthday in Mexico. The beautiful actress now has even more reason to feel satisfied with her career. Forbes has named her the highest paid television actress for the period May 2011 - May 2012 and described her as the "reigning queen of prime time television". The magazine's report put her earnings for the 12-month at £12m. According to the magazine, a major chunk of Vergara's income was business-related, rather than payment for her role as Gloria in the award-winning show.
"2012 was a boom year for the Colombian native: she had three movie roles, scored endorsement deals in English (Cover Girl, Diet Pepsi) and Spanish (Burger King, Comcast and State Farm) and launched a clothing line with KMart that earned her a seven-figure advance. But Vergara's far from the ditzy bombshell she plays up for the cameras: as one half of the management company Latin World Entertainment, she's an entertainment mogul on the rise," the magazine reported.
"The truth is out that we're in this country and we're taking over," Vergara was quoted as saying to Forbes, "To see people paying ­attention to the cultural changes that Luis and I have seen coming for a long time is fantastic."
Vergara also does charity work through Dreams Without Borders, a non-profit organisation dedicated to instilling hope and inspiration into the lives of orphans in her home country of Colombia.
Meanwhile, reality television star Kim Kardashian secured second place on the list with £11.5m in earnings - her share of a £19m deal her family signed with E! Network for three more seasons of the television show Keeping Up With The Kardashians. In addition, she also has income from her line of fragrances - these have earned nearly £4m in retail sales - and the Sears clothing line she runs with her sisters.
Desperate Housewives star Eva Longoria is third on list with £9.6m last year. She has several lucrative endorsement deals, notably with Pepsi and L'Oreal and was paid nearly £250,000 per episode, for the final season of the award-winning television show.
Click Start to see who else made the top ten of the Forbes List for Highest Paid TV Actress of 2012