The first circumnavigation of the earth by a solar-powered plane faces one final hazard on the last leg of its epic journey: too much sun. Solar Impulse 2, which started its adventure in March 2015, is now making its final flight between Cairo and Abu Dhabi, flying partly in darkness using energy stored in 17,000 solar cells in its huge wings.
The flight to Abu Dhabi is expected to take 48-72 hours, but the plane will be flying across the deserts of North Africa and the Middle East which present new problems. The flight was delayed last week due to a heatwave in Saudi Arabia and pilot Bertrand Piccard. who with fellow Swiss aviator Andre Borschberg has flown alternate legs, says the heat will make the last leg tough.
"It's a very, very hot region… it's going to be an exhausting flight," Piccard told journalists via Skype from the project's mission control in Monaco. "Technically it's close to the limits that we have set in terms of temperature, so that's something which we did not experience before. But with the temperature profile that we see over the coming days, we should be all fine."
The Solar Impulse 2 weighs the same as a family car, but has the wingspan of a Boeing 747. It can reach a maximum height of 28,000ft (8,500m) and cruises at 34-62mph (54-100kph) depending on the amount of sunlight.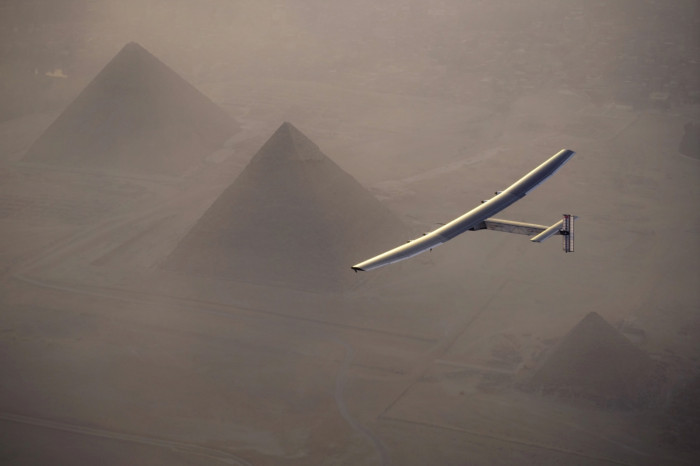 During its circumnavigation of the world, Solar Impulse 2 has already broken a number of records, including making the first solar-powered transatlantic flight.
Piccard says the idea for the solar -powered flight came to him when he made the first non-stop balloon flight round the world.
"I started to dream about this project 17 years ago in 1999 when I finished my hot-air balloon landing in Egypt, so 17 years later I take off where the balloon landed," he said.
There is a live cam inside the cockpit of the Solar Impulse 2 which you can watch by clicking here.