Motorists stuck on roads to Dover face another day of tailbacks after Kent Police said their misery will drag on in to Monday. Thousands of holidaymakers on their way to Dover Ferry Port were held in huge traffic queues on the A2, A20 and M20 on Saturday, 23 July, as French authorities beefed up their security checks amid a heightened terror alert there.
The roads started to become busy on Friday night, leading to drivers to be stuck for up to 14 hours the next day as temperatures soared toward 28C. Eleven thousand emergency water bottles were handed out as some resigned motorists got out of their car to sunbathe, play football or walk along the jammed roads. On the M20 motorists were treated to an impromptu performance by a steel drummer and tambourine player.
Police said the mayhem had been caused by a combination of "vast volume" and increased checks on the French side. There were reports just one member of the French border control staff was checking passports.
On Sunday morning there were still 5.5-hour road delays on the M20 and up to 35 minutes on the A2. Drivers who made it that far then faced a two-hour wait at Dover Ferry Port. It was taking vehicles three hours to travel from Roundhill Tunnels to the port – an eight mile journey.
Motorists stuck on Saturday complained of a lack of information, as fears grew about a shortage of food supplies. P&O ferries have told lorry drivers they will not be charged when they eventually make it onto one of their services.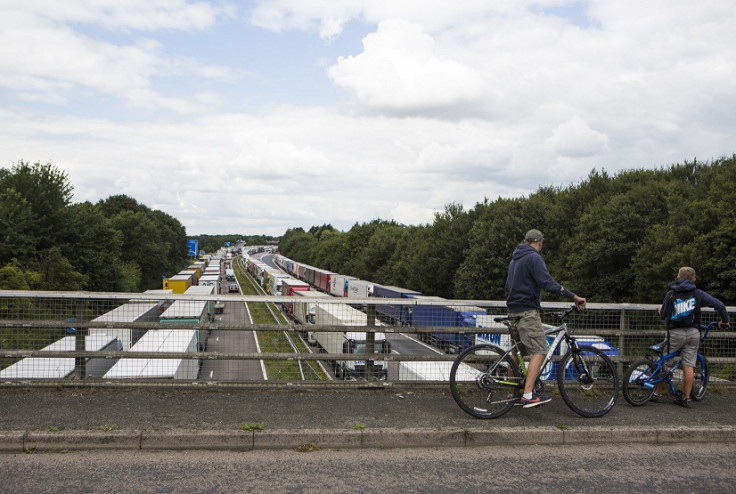 "Rest assured, if you are stuck in queues at Border Control in Dover we will put you on our next available sailing at no extra cost," the company said.
Conservative party chairman and former transport secretary Patrick McLoughlin said the additional security checks in France were "understandable" but criticised how motorists were "left in the lurch" with information.
"Tourism is a very important industry and no one wants to see the start of their holidays held up," he said on the BBC's Andrew Marr show.