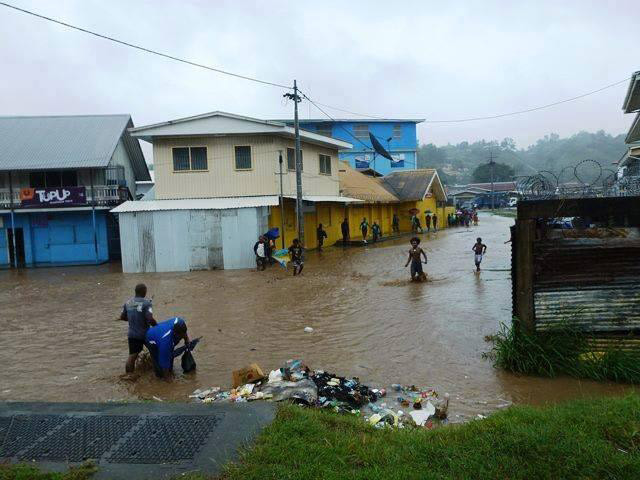 Flash floods have killed at upto 16 people and left 10,000 displaced in the Solomon Islands' capital Honiara, according to aid workers.
Torrential rain has caused the city's main rivers, the Matanikau and the Lungga, to burst their banks, washing away homes and bridges and sinking the downtown area of Honiara. Some of the smaller streams are also breaking their banks and washing away homes.
The airport is currently closed and so are many roads around Honiara as a number of bridges have been destroyed.
Save the Children reported seeing a child being swept away by the floods. Thirty people are missing and the death toll is expected to rise.
"This is the worst disaster the nation has seen," the Solomons Star newspaper said.
More than 10,000 homeless people, a significant proportion of the 70,000-strong population of Honiara, is sheltering in schools across the capital in 16 evacuation centres.
"The scale of the damage is still unclear outside Honiara as both bridges out of the city are cut off. However, in the city thousands of homes have been completely washed away, with people fleeing for their lives, many with nothing but the clothes on their backs," Save the Children's Graham Kenna in Honiara said.
"We are extremely concerned about the welfare of children across the Solomon Islands as they are particularly vulnerable during emergencies. My staff have witnessed a child being swept away by the floodwaters. They are devastated by what they have witnessed".
UN Office for the Coordination of Humanitarian Affairs' (OCHA) regional director Sune Gudnitz said the flooding followed days of heavy rain, which was still falling.
"The water has not subsided and flood waters are continuing to build," he said. "The depression is threatening to turn into a category one cyclone in the coming hours and days."
One of the major concerns was dengue fever, already common on the Solomons.
Solomons Prime Minister Gordon Darcy Lilo said the government would declare a state of emergency, according to reports.
Director of the National Disaster Management Office (NDMO) Loti Yates told the Solomon Islands Broadcasting Corporation that the flash floods were the worst he had seen.
Save the Children has stockpiled items ready for distribution as soon as practicable, including tarpaulins for shelter, buckets, jerry cans and blankets.