Somalis suffered destruction on a scale never seen before when a truck packed with explosives detonated near the entrance of Mogadishu's Safari Hotel, effectively destroying the entire local area, on Saturday 14 October.
The blast took place close to Somalia's foreign ministry building. A second explosion occurred shortly after in the capital's Median district.
With a death toll of more than 300 people, and many more injured, it was the deadliest single attack in Somalia's history. It was so devastating that President Mohamed Abdullahi Mohamed – known as 'Farmaajo' – announced three days of mourning for what he deemed as "a national disaster".
But the president was not the only one to condemn the attack, which also triggered the outrage of Mukhtar Robow Abu Mansur, the co-founder of Al-Shabaab terror group, which is thought to be behind the blast. The group, however, has not yet confirmed whether it carried out the bombing.
Mansur, who has repeatedly denounced Shabaab activities after he left the group in 2012, was pictured as he visited one of Mogadishu hospitals and donated blood to the victims of the truck bomb. He expressed sorrow for a "barbaric" and "unacceptable" act that caused "the death of innocent people".
Those who survived are now coping with the aftermath of the tragedy. Sorrow was followed by anger as protesters took to the streets of Mogadishu. Demonstrators gathered at the scene of the blast and chanted against the attack.
"Everywhere you looked, there were dead bodies. Everywhere you turned, there were wounded people crying for help. I never imagined I will see such a scene," said witness Mohamed Ahmed.
"When you see the area and location, you will [understand the extent of the damage]," said Farah Bashir, managing director of Galayr Consultancy. "The blood of the victims, burned pieces of human bodies," he continued. "No doors, windows, curtains, walls – all [destoyed] and demolished."
"I saw people I used to see every day in the city among the dead. Every home in Mogadishu has lost someone or knows someone that was killed in the explosion", Hussien Mohamed said.
Furthermore, a lack of medicines and doctors are putting a strain on facilities in Mogadishu.
The Somali government has appealed to the international community for help. At least 40 citizens who sustained injuries were airlifted to Turkey for further medical treatment, according to officials.
Farmaajo and his PM were among those who donated blood to the victims and called on the public to follow suit.
"I call on our citizens to come out, extend help, donate blood and comfort the bereaved. Let's get through this together," the president said.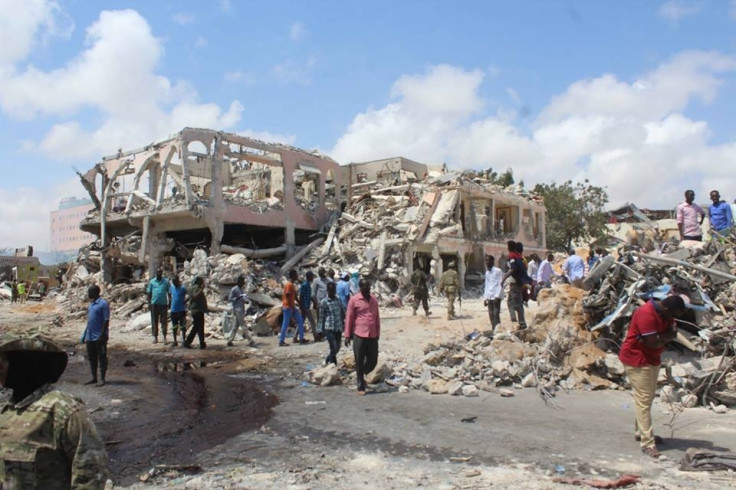 ---
Hassan Istiila is the editor of Radio Dalsan in Mogadishu. He is also a blogger, a freelancer and a researcher on human rights. Follow him on Twitter.
---