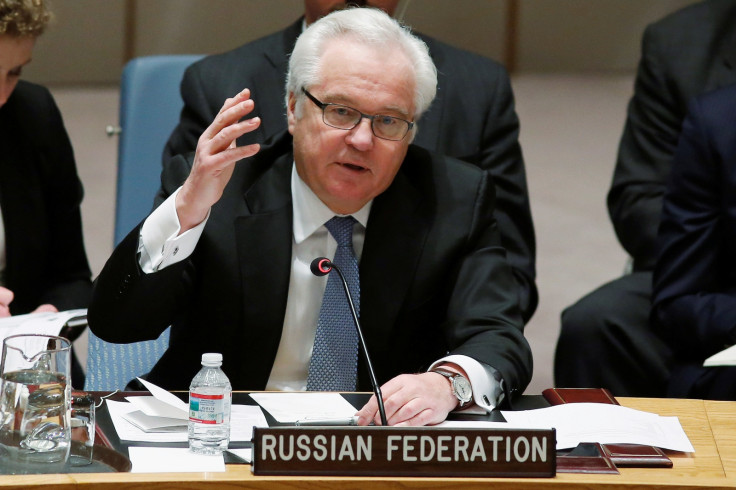 The death of Russia's combative envoy to the United Nations, Vitaly Churkin, has sparked tributes for the man renowned for his sparring matches with his western counterparts.
The UN Secretary-General Antonio Guterres called him an "outstanding diplomat" who served Russia "with distinction".
The US ambassador Nikki Haley said: "We did not always see things the same way, but he unquestionably advocated his country's positions with great skill." Her predecessor, Samantha Power, said he was a "diplomatic maestro and deeply caring man" who tried to bring Russia and the US closer together.
However, Power was often on the receiving end of the no-nonsense approach of the man who was the longest-serving ambassador on the Security Council.
After listing war crimes allegedly committed by forces including Russia's in Syria, she asked him in December 2016: "Is there literally nothing that can shame you?" Churkin replied: "She gave her speech as if she was Mother Theresa herself. Please, remember which country you represent. Please, remember the track record of your country."
Three months earlier, at a UN Security Council emergency meeting, Churkin said of Power: "She was not interested in what I have to say. There is no point in listening to Ambassador Power".
Back in February 2014, Power said she had met members of Pussy Riot, who were arrested after an anti-Putin protest in Moscow's main Orthodox church. Churkin said of the US diplomat: "And she has not joined them herself? Maybe they can organise a world tour: St Peter's Cathedral in Rome, Mecca in Saudi Arabia and the Wailing Wall in Jerusalem".
The Syrian crisis certainly kept him on the defensive at the UN. After its under-secretary-general, Stephen O'Brien, blamed Russia for the humanitarian disaster, Churkin criticised what he thought was not an objective analysis of events, saying: "If we'd needed a sermon, we'd have gone to a church. If we'd wanted to hear poetry, we'd have gone to the theatre."
Most recently, after the British envoy Matthew Rycroft said Moscow's position on Ukraine was an "inversion of reality", Churkin barked back: "Return the Malvinas islands, return Gibraltar. Then maybe your conscience might be clearer and you could discuss other topics."
However, Rycroft paid tribute to the man he described as a "a diplomatic giant and wonderful character" the Associated Press reports.
His death comes at a key time for Russian diplomacy as this week the UN grapples with discussions about the conflict in Ukraine and the Syrian crisis. In an interview with the state broadcaster RT earlier in February, Churkin said diplomacy had become "much more hectic".