As she makes her way to the White House via Philadelphia, Theresa May has revealed her strategy for developing a working relationship with Donald Trump: the charm offensive.
The British prime minister is preparing to become the first foreign leader to meet the US president on Friday (27 January). On board her flight across the Atlantic on Thursday (26 January), May – a vicar's daughter – was asked about the striking contrast between her style and that of a billionaire reality TV star, to which she quipped: "Haven't you ever noticed, sometimes opposites attract?"
As May sets out to "renew the special relationship", and eyes a post-Brexit trade deal, she insisted that Trump – who has previously branded Nato "obsolete" – is supportive of the military alliance.
The prime minister was quoted by the Guardian as saying: "From the conversations I've already had with President Trump over the phone, he has shown to me his commitment to Nato as well. I believe a strong Nato has been the bulwark of our defence in Europe. Obviously that's important in the UK national interest and I believe it's important in the US national interest."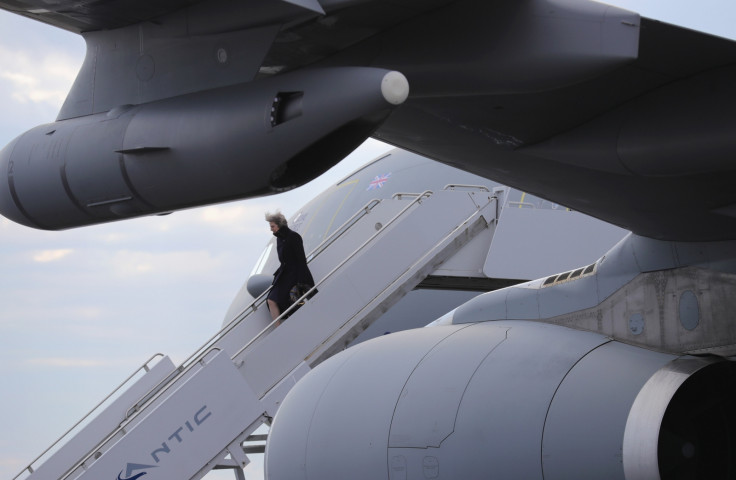 As well as Nato, May said she will also discuss counter terrorism and the trading relationship between the US and UK with Trump.
May was keen to focus on the shared political values between hers and Trump's administration despite obvious differences on key issues, including torture. In his first interview with ABC News on Wednesday (25 January), the president insisted that torture works – despite previous remarks from his defence secretary, James Mattis, to the contrary.
Trump said: "When they're shooting, when they're chopping off the heads of our people and other people, when they're chopping off the heads of people because they happen to be a Christian in the Middle East, when Isis [Islamic State] is doing things that nobody has ever heard of since Medieval times, would I feel strongly about waterboarding?
"I have spoken with people at the highest level of intelligence and I asked them the question 'Does it work? Does torture work?' and the answer was 'Yes, absolutely'."
May, however, insisted that the UK's stance on torture would not change – no matter who she is speaking to.
"We condemn torture and my view on that won't change whether I'm talking to you or talking to the president of the United States of America," she told reporters on board the plane.
A No 10 spokesperson said: "We have been clear in the areas we are likely to cover, the point is we have a strong relationship with America, a close relationship with America and that allows us to have frank exchanges and where we disagree we will make it clear."
Opposition leader Jeremy Corbyn has urged the prime minister not to shy away from clearly setting out the UK's position. "Theresa May must stand up for our country's values when she meets Donald Trump and oppose his support for torture, which is inhumane, illegal and delivers false intelligence," he said.
May is set to meet with Congressional Republican leaders in Philadelphia before moving on to meet Trump at the White House tomorrow. The UK and US leaders will hold a joint press conference on Friday, the White House has said.