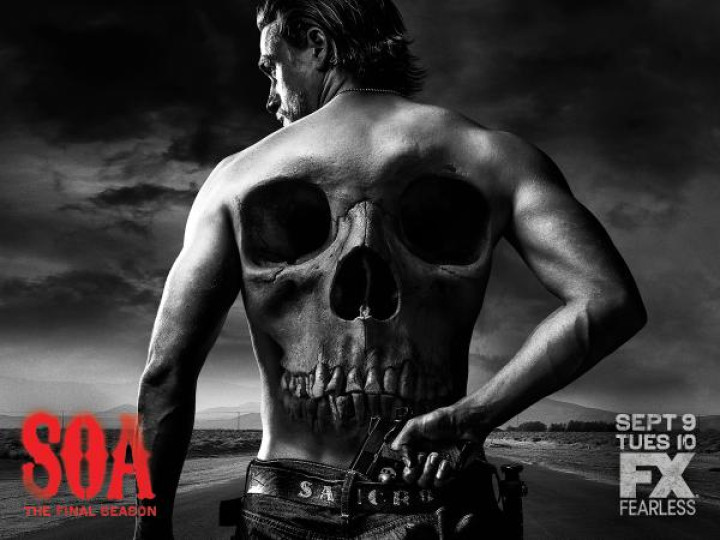 Sons of Anarchy Season 7 continues its gripping final ride with the second episode Toil and Till.
The premiere episode ended on a bloody note when Jax Teller (Charlie Hunnsam) killed the innocent Lin Triad member and the murder weapon was nothing but the meat fork.
Episode 2 begins with Jax waking up to an empty house, where he spots his loving wife Tara's dead body.
Meanwhile, Gemma, the SAMCRO matriarch, was seen rekindling her romance with Nero at the breakfast table while Juice remains exiled, probably planning his next move.
Wendy and Nero, the recovering drug addicts, on the other hand, were seen bonding over Abel's school search.
The highlight of Toil and Till was Jax's secret plan to destroy the Chinese gang to avenge Tara's murder.
During the premiere episode, in order to escape Jax's wrath, Gemma has falsely implicated the Lin Triad gang for Tara's murder.
In a meeting with Jury, Jax divulged his attack plans to dismantle the Chinese gang one by one. And to do this, Jax will offer his friendship to Lin and will try to win his trust.
Once he is into the gang, he will find out the person responsible for Tara's death and will have his ways with the guilty.
The SAMCRO president's deadly plan is not to kill the guilty; instead, he plans to kill all the loved one of the culprit before killing him "as slowly and painfully as possible."
FX's blockbuster biker drama also introduced the new Sheriff Althea Jarry (Annabeth Gish) in the town of Charming.
Sheriff Althea visits Unser who has decided to help in the Tara murder probe and to provide information about the motorcycle club, Jax, Juice and almost everything related to SAMCRO.
Fans went furious during the premiere episode when Gemma was able to convince Jax about the murderer of Tara but in the second episode, the ruthless woman of Charming proved that she still has some heart left especially when Abel asked her the innocent questions about his mother.
Abel asks his grandmother if she was there when his mother went to heaven and how she knows that Tara is in heaven. "Because all angels go to heaven," Gemma replies before shedding some 'true' tears.
Episode 3 Synopsis and Spoilers:
The episode 3 is titled as Playing with Monsters and the official synopsis via Cartermatt reads: "Samcro exploits an opportunity to secure an important alliance."
As every episode of the popular series is unleashing the reaper side of Jax, show creator Kurt Sutter and Kim Coates (Tig) hinted at more bloody episodes in the offing.
"Tig lives...at least until the ninth episode! But that doesn't mean there won't be plenty of deaths by series' end. "We're wiping everybody out," Coates, who plays the popular character Tig told E Online. "it's a very, very sad season. It's nuts. It's a gnarly season," the synopsis read.
Sons of Anrachy Season 7 episode 3 airs on 23 September on FX networks and is written by Kurt Sutter and Peter Elkoff.