Sons of Anarchy Season 7 will start shooting its seventh and final season in a month's time and fans keep getting juicy spoilers for the upcoming biker drama.
Earlier it was show creator Kurt Sutter spilling the beans about what to expect in the upcoming season but this time some juicy spoilers came from the mouth of Theo Rossi, who plays Juice in the blockbuster series.
Rossi played an important role in the last season and is expected to face Jax's ire when he learns about Juice helping Gemma in Tara's murder.
In an interview with Entertainment Weekly, Rossi revealed a few important plots of the upcoming series and also teased fans about some 'naked Jax' scenes in the final series.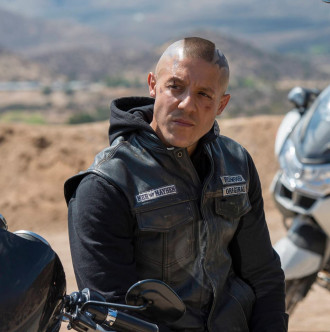 Rossi also hinted that there were chances that his character would die in the series finale:
"A lot of people say that because of the whole Hamlet, and let's be honest, every year we lose major characters left and right. The season 6 finale, I think, was the most shocking episode we ever did in every way," Rossi told the website.
"You have dreams of being the last guy standing, the one riding off, but you know, I've done a lot of bad things."
"I don't know if you're gonna see Juice hangin' out makin' smoothies in the clubhouse when we open up," Rossi added.
"Who knows where he's gonna be or what's gonna happen. I could be, like, covered in leaves, hiding somewhere, all decrepit."
During his drive for revenge, Jax is suspected to leave SAMCRO and ride solo to search for Tara's killers and Rossi suggests that viewers will get to see more naked scenes of Jax in the upcoming season.
"Here's the difference with naked Juice: He's never been naked Jax. Naked Jax is cool," Rossi told EW giving Die hard SOA fans a reason to cherish.
"Naked Jax is in the shower, naked Jax is on top of a girl, naked Jax is doing something with his big back tattoo that you're like, 'Wow.' Naked Juice has been in a diaper. Naked Juice has OD'd and puked everywhere from Gemma's hand in his mouth. Naked Juice is never a good thing. So when I hear things like that, I assume that anxiety will follow," he added.
Sons of Anarchy Season 7 will premiere in September this year on FX. The channel is yet to declare a specific airing date. Check this space for latest updates and scoops on your favourite shows.