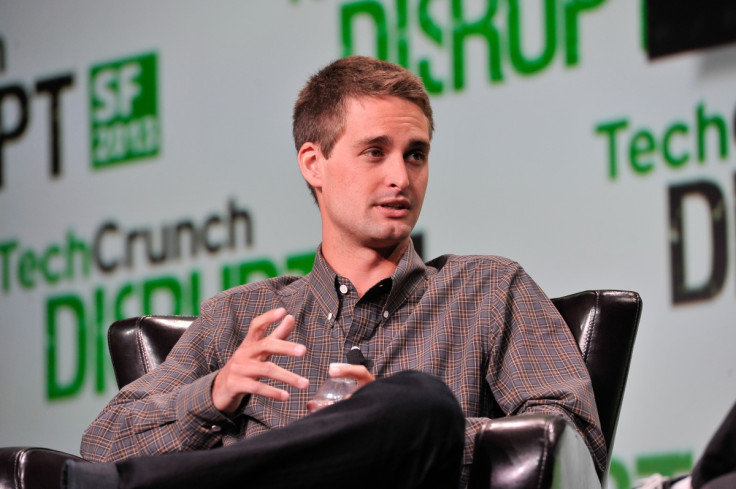 Snapchat CEO Evan Spiegel has addressed his staff following the leaking of his private emails in the wake of the Sony Picture hack, saying he was "devastated" and felt like he "was going to cry all morning".
Emails between Spiegel and Sony Pictures CEO Michael Lynton, who sits on the board at Snapchat, were stolen in the massive cyber attack and leaked online. They reveal conversations about making a Google Glass-like product, pursuing plans to insert music into the photo-sharing app, and that Snapchat turned down an offer from Facebook larger than the $3bn (£1.9bn, €2.4bn) previously reported.
A letter sent to employees and later shared by Spiegel on Twitter read: "We keep secrets because we love surprising people. We keep secrets because we get to do our work free from judgements - until we're ready to share it. We keep secrets because keeping secrets gives you space to change your mind."
Spiegel went on: "Keeping secrets is exhausting [and] means coming home late, after working all day and night. Curling up with your loved one, hanging out with your friends, and not being able to share all of the incredible things you're working on. It's painful. It's tiring."
It was also revealed via leaked emails that Spiegel and his co-founder Bobby Murphy sought to pocket $40m during an investment round by selling secondary shares in his company. It isn't clear if the founders ever got this money, and this was not mentioned in the letter.
The 24-year-old went on to says he "felt like I was going to cry all morning," when the emails were made public, but said his team will "keep doing exactly what we were doing. And then we're going to do it 10 times better...we're going to change the world because this is not the one we want to live in."
He added to say he was "so sorry that our work has been violated and exposed...we're going to be really mad and angry and upset. But that's ok. It's not fair that the people who try to build us up and break us down get a glimpse of who we really are. It's not fair that people get to take away all the hard work we've done to surprise our community, family and friends."
The full letter, tweeted by Spiegel, is embedded below.