The PlayStation 4 has set a new record for Sony, with the company selling over 2.1 million PS4s globally in 17 days.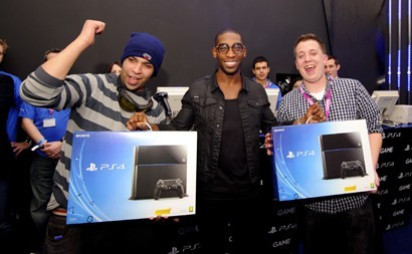 The PS4 went on sale in Europe and across the UK at midnight on 29 November, with fans queuing up for three days to be among the first to pick up the new video game console.
The PlayStation 4 is now available in 32 countries and Sony is hoping to sell five million units worldwide by March 2014.
"It's an impressive and record-setting accomplishment for our company and for our industry, and we couldn't have done it without you. I want to personally thank PlayStation fans, both old and new, for your vote of confidence," Sony's Andrew House said on the US PlayStation blog.
Read more: PlayStation 4 Review
On Monday Gfk Chart-Track revealed that the PlayStation 4 sold 250,000 units in 48 hours in the UK, topping the Xbox One, which sold around 150,000 units in the same time period and becoming the fastest-selling console ever in the UK.
Sony launched the PS4 in the US on 15 November and sold one million consoles within 24 hours, while Microsoft's Xbox One, which launched on 21 November in 13 countries, also sold one million consoles worldwide in 24 hours.
PSN Problems
"While PS4's capabilities will continue to evolve, our commitment to gamers and breakthrough entertainment remains steadfast. We believe that videogames represent the pinnacle of artistry and entertainment, and we will work tirelessly to make sure that PlayStation remains the best place to play," wrote House on the blog.
The PlayStation Network (PSN) has been plagued by problems with traffic overload from too many users logging in on their PlayStation 4 consoles, both in the US and in Europe.
Hundreds of users in Europe complained on Twitter on Friday with parts of the PSN down over the weekend, with the voucher redemption functionality still unavailable to some users.
Turnaround
Sony, once one of the biggest names in electronics, is slowly making a turnaround after four years of failing to make a profit.
In May of this year the company announced profits of £295 million for the year ending 31 March, the first full-year profits since 2008.
Under the leadership of Kaz Hirai the Japanese electronics giant has seen its smartphone and camera businesses return to profit though there remains problems with its entertainment division, with Hirai announcing last month that it will be shrinking its film division in order to keep it operating.
Sony will be hoping the PS4 will be able to help boost the company's bottom line.