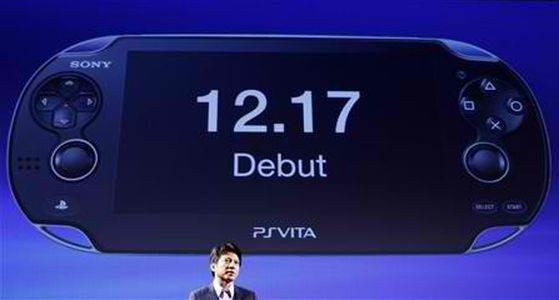 Sony has revealed the launch date and games line-up of its highly anticipated PlayStation Vita portable games console.
A day before its annual Tokyo Game Show press conference Sony representatives confirmed that the Vita would go on sale in the company's native Japan 17 December, 2011, with a full global release following "shortly" after.
Alongside the Vita's release date, Sony also announced 26 titles that would be launching alongside the handheld. The games listed included several big-name titles including Ultimate Marvel vs. Capcom 3, Uncharted: Golden and F1 2011.
The company also confirmed the device's price as 24,980 yen ($325) for the Wi-fi only model and 29,980 yen ($390) for the 3G plus Wi-fi version.
The lack of official word regarding the device's European and North American release has left analysts and consumers guessing whether the company will push to have the device ready for the 2011 holiday season. Certain groups have since suggested Sony may wait, choosing to release the device in its previous early 2012 estimate.
The 3DS' Holiday Offering
Sony's announcement immediately followed a statement by Nintendo at the Tokyo Game Show. During its own conference Nintendo revealed a slew of new games and an updated pink version of the 3DS.
The titles unveiled at the show included a number set to include the company's flagship Mario character, two of which were given Q4 2011 release dates.
The new games follow a statement by the company's president, Satoru Iwata, alleging that one reason for the 3DS low sales figures and Nintendo's resultant poor financial performance was the handheld's launch lineup. Speaking at the show, Iwata went on to cite his belief that the new titles would help reverse the 3DS' fortunes.
"From the end of this year to the beginning of next, we are planning the kind of extensive lineup that has probably never been seen before in the history of video games," said Iwata. "We will make an all-out effort to see that the 3DS sells enough to become the successor to the DS."
Following Nintendo and Sony's announcements, analysts and research groups have been rife with speculation regarding the Vita and 3DS futures. Before Nintendo slashed the 3DS' recommended price by 40 per cent the console had suffered from poor sales.
Certain groups have since suggested that the 3DS' poor performance could be indicative of a shift by consumers away from dedicated handheld games consoles towards more versatile tablet and smartphone devices.
At the time this article was written Sony had not responded to requests for comment on the Vita's ability to compete with tablet and smartphone devices.