Sony's upcoming Xperia series flagship smartphone, as well as its compact version, will be released in September.
Over the past few weeks, a number of leaks have surfaced online revealing the hardware specifications for both Sony Xperia Z3 and Xperia Z3 Compact. Besides, both the handsets have been captured in leaked screenshots.
Now, a document with instructions for a raffle at the Vodafone stores, shared by Go2Android via Gforgames, suggests the winner will win a trip to New York on Black Friday.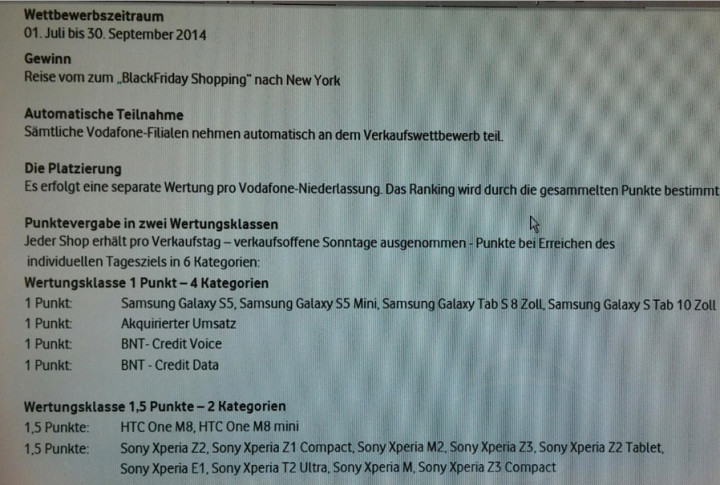 The document lists a number of smartphones such as HTC One M8, M8 Mini, Xperia Z2, Xperia Z1 Compact, Xperia M2, Xperia Z2 tablet, Xperia E1, Xperia T2 Ultra and Xperia M. What grabs the attention of viewers is the listing of Sony's upcoming Xperia Z3 and Xperia Z3 Compact with the handsets worth 1.5 points as noted in the document.
The raffle is scheduled to take place from 1 July to 30 September, which hints the Xperia Z3 and Z3 Compact could be available for purchase by the end of September.
Sony is expected to make an announcement about the aforementioned handsets at the IFA 2014, which is to be held from 5-10 September in Berlin and the devices will go on sale in the same month, shortly after the launch.
Talking about the technical specifications, Xperia Z3 is likely to sport a 1080p display whereas, the Z3 Compact will have 4.5in screen with 720p resolution.
The smartphones are expected to use 2.5GHz Snapdragon 801 quad-core processor and 20.7 megapixel rear snapper.