Sophie Turner has spoken out about HBO's Game of Thrones portrayal of rape and nudity, which has sparked controversy over the years.
Turner, 21, made her acting debut as Sansa Stark on the fantasy drama since 2011, and her character was the victim of a horrific rape in season 5 which shocked viewers.
One fan tweeted at the time: "When Ramsay Bolton deflowered Sansa Stark it was a painful scene. No affection, no love & no romance. That was rape indeed #GameofThrones".
Another said: "sansa stark survived manipulation, rape, and domestic violence. she has her own brand of bravery and strength."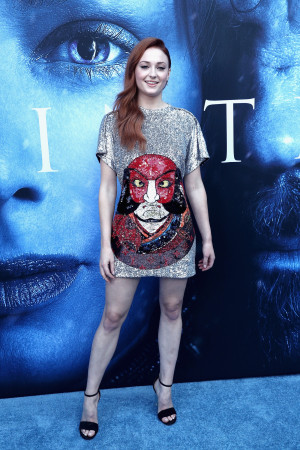 But Northampton-born Turner has claimed that she was annoyed by the general public's reaction to the rape in an interview with Marie Claire, wondering why real rape cases weren't openly discussed.
She said: "I was happy people were talking about it. But I was angry they put all their effort into [debating] a television sexual assault when it happens around the world every day, and you barely hear of it."
Turner echoed her thoughts from an interview she gave to TIME earlier this year where she said: "This was the trending topic on Twitter and it makes you wonder, when it happens in real life, why isn't it a trending topic every time?
"This was a fictional character, and I got to walk away from it unscathed. Let's take that discussion and that dialogue and use it to help people who are going through that in their everyday lives. Stop making it such a taboo, and make it a discussion.'
Turner, who announced her engagement to Joe Jonas on Instagram earlier this month and has a starring role in Louis Vuitton's fall ad campaign, posed in a series of high fashion shots for her Marie Claire cover.
The redhead features in a series of stylishly moody shots taken by Beau Grealy in the spread where she talks about her three upcoming movies and landing the role of Sansa at the age of 13.