South Africa have hit back on the second day of the second test against Australia, with captain Graeme Smith making an unbeaten 111, leaving his side well-placed as they reply to the hosts' massive total of 550.
South Africa currently sit on 217-2, though Michael Clarke had put Australia in the best position possible with his 224 runs, until the skipper was dismissed at the start of the day after scoring six.
Fast bowler Morne Morkel picked up his game, taking five wickets including three in four overs to drag South Africa back into the match, after a chastening first day for the tourists.
And Smith continued the side's turnaround by batting a century, while Hashim Amla and Alviro Petersen departed for 11 and 54 respectively. No4 Jacques Rudolph finished the day not out on 25.
Morkel said that a difficult first day gave the South African side the wake up call they needed, telling reporters: "We're a team that realised and knew what was needed to be done. The time for talking was over so we needed to react and we needed to step up and pull up our socks.
"I know it wasn't our best performance yesterday but it was also a performance we needed to put to bed.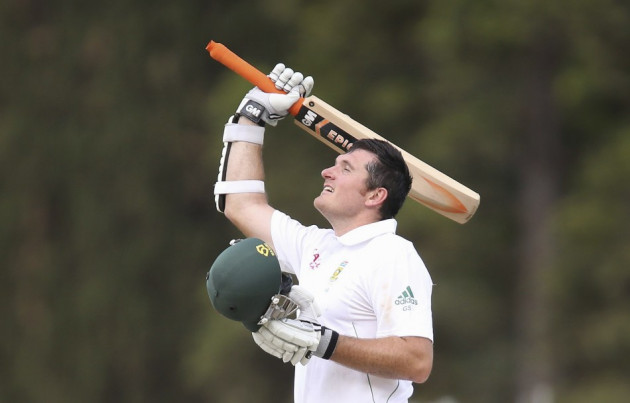 "This team always finds a way to fight back and I think in a way you can never count us out and we'll fight hard for the next few days and hopefully we can go well."
Morkel's achievement with the ball - it was his first five-wicket haul on Australian soil - was somewhat overshadowed by Smith's century with the bat later in the day.
But the 28-year-old was happy to hand over the limelight to the man who he says is a brilliant captain.
"He [Smith] is one of the best captains I've ever played with," Morkel explained. "The amount of passion and pride he's got for this country and the way he's leading - a lot of the people don't see what's happening in the changing room, behind the scenes.
"We needed a guy up front to be solid and he's still there... I hope tomorrow can be a really big day for him."