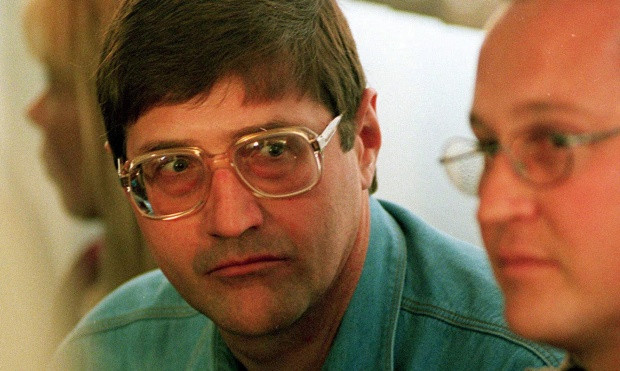 A South African 'death squad' leader who tortured and killed black activists during the apartheid era has been granted parole after 21 years.
Eugene de Kock, nicknamed Prime Evil, has been granted parole in South Africa after it was ruled his release would be in the "interests of nation building".
De Kock, 66, was sentenced to two terms of life imprisonment plus 212 years in 1996 after admitting more than 100 crimes such as murder, torture and fraud in the late 1980s and 1990s.
Justice Minister Michael Masutha said De Kock has been released as he has expressed remorse and helped authorities recover the remains of some of his victims.
"I've considered the matter and noted positive reports from professionals. I've noted his progress. Eugene de Kock has been granted parole," he added.
De Kock was first arrested in 1994, the year Nelson Mandela took power in South Africa.
He was the commander of the Vlakplaas "counterterrorism" unit, who were known to torture and kill black activists during white minority rule in South Africa. It is thought the death squad were responsible for killing at least 70 people.
Masutha said the date of when de Kock will be released from Pretoria's high security prison will not be made public.
During his time in prison, de Kock contacted some of his victims' families to ask for forgiveness. He has also attempted to bring disruption to the South Africa, accusing former president Frederik Willem de Klerk of having "blood on his hands" in 2007 for ordering political killings.
De Klerk, South Africa's last white president who shared a Nobel Peace Prize with Mandela for their work in ending apartheid, denied the allegations.
During the same hearing, Masutha denied parole to Clive Derby-Lewis, founding member of the South African Conservative Party (SACP) who was jailed for killing the party's general secretary Chris Hani is 1993.
Derby-Lewis is said to be dying on cancer and only has "months left" to live.
Masutha said: "I have considered the relevant laws and prescripts that regulate medical parole. Nothing to suggest that Derby-Lewis's condition is such that he is rendered incapacitated. Clive Derby-Lewis has been denied parole."