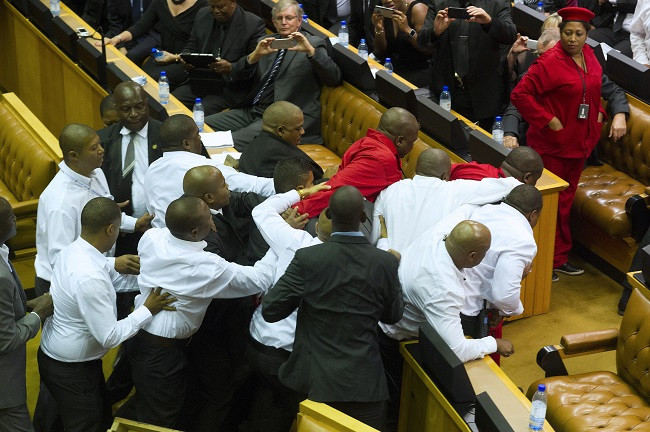 Nobody expected Jacob Zuma's 2015 State of the Nation Address (SONA) to be a humdrum affair. But the reality – punctuated by mobile phone jamming, wrestling matches and a mass walkout – was more bizarre than most could have imagined.
The drama began even before President Zuma, Speaker of the National Assembly Baleke Mbete, and Chairperson of the National Council of Provinces Thandi Modise entered the chamber. As Zuma approached the parliament building in a large white van, SABC's coverage briefly cut to waiting members of parliament in the chamber who held mobile phones in the air and chanted "bring back the signal".
News emerging from those close to the parliament precinct revealed that a mobile phone signal jamming device had been spotted.
Even before Mbete could introduce the President, three members of parliament from the opposition Democratic Alliance (DA) raised points of order. They said the jamming of mobile phones in the chamber of parliament was a violation of the constitutional right to impart ideas and receive information. Mbete was unperturbed and calmly responded that she would ask the parliamentary secretary to "look into the matter".
DA MPs were not to be denied, however, and refused to go ahead as long as the jamming device was still working. The house was briefly adjourned amid a flurry of activity.
"When will you pay back taxpayers?"
Shortly afterwards precious mobile phone connectivity flooded back into the smartphones of elected representatives and journalists. Despite a question from the DA, Mbete was not able to elaborate on who or what had installed the jamming device. City Press editor Ferial Haffajee, in attendance during SONA, tweeted:
Twitter, WhatsApp and Facebook duly restored (aside: given tonight's events mesh networks like Firechat might gain popularity in South Africa), Mbete invited Zuma to deliver SONA 2015.
Zuma, complete with red tie, dark blue suit and relaxed demeanour, proceeded to lumber through formal introductions.
And then. The moment most South Africans had been waiting for arrived.
One after the other, opposition Economic Freedom Fighter (EFF) MPs took to their feet and raised points of privilege in accordance with rule 13 (c) of the rules of parliament.
All of them asked more or less the same question: When is Zuma going to pay back taxpayer money they claim he used to build his private home at Nkandla?
Mbete insisted that SONA was not supposed to be a question-and-answer session, merely to listen to the president's speech. Her patience lasted until EFF leader Julius Malema and deputy leader Floyd Shivambu added their voices to the growing clamour for the president to answer the question.
Finally, Mbete had enough and ordered the sergeant at arms to "assist" Malema to leave the house.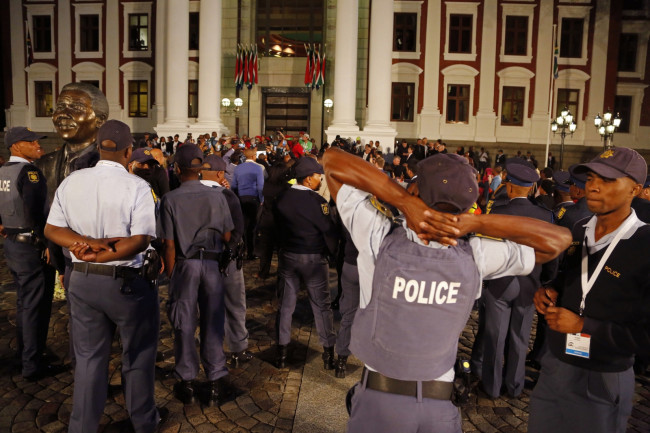 What happened next was not broadcast on television; although a violent interaction was clearly audible, the parliamentary feed showed only a close up of Mbete and Modise's tense faces.
Amateur images and videos taken from the gallery, however, captured a horrific five-minute battle between security personnel (it is still unclear if they were parliamentary security personnel or police officers) and EFF MPs. Fist fights, wrestling matches and forceful removal are clearly visible in the video. Although no coverage was reported on state broadcaster SABC, local news channel eNCA repeated the amateur footage as an insert during Zuma's delivery.
At one point, either Mbete or Modise is heard to say "the members of the security forces must come in terms of the powers and privileges act." Malema has subsequently claimed that his MPs were injured during the forced removal.
After the forced removal DA MPs got to their feet again to ask Mbete and Modise whether they had ordered police officers onto the floor, thereby breaching the separation of powers and fundamental constitutional rights to assembly and expression.
Modise – having taken charge at this stage in place of Mbete – attempted to respond, but not to the satisfaction of DA MPs, who then staged a mass walkout of their representatives, all clad in black in protest at the current state of the nation.
With only his African National Congress (ANC) MPs and representatives of minority parties remaining, Zuma resumed his speech in good humour, allowing himself a laugh at the outset, and several times during his delivery.
His speech contained some interesting moments – including a confirmation that "foreign nationals will not be allowed to own land in South Africa" – but is likely to be largely overshadowed by the dramatic events that preceded it.