South Africa must be the only country in the world with a public holiday dedicated to the art of barbecuing.
OK, September 24 actually started life as Heritage Day rather than National Braai Day before it was oh so cleverly co-opted, but even so.
As to where the idea for last week's feast day came from, it was, in fact, the brainchild of one Jan Braai aka Jan Scannell, a former accountant who started a campaign to promote the braai's unifying power in 2005. And such has been the momentum behind it that Emeritus Archbishop Desmond Tutu is now its official patron.
The original aim of Mr Braai's crusade, however, was to encourage his fellow countrymen and women to celebrate the one cultural activity that they all had in common, regardless of race, language, gender, economic circumstances or historical differences. Which, depending on how you look at it, could be seen as either a happy or rather a sad thing.
But so upbeat is Jan about the bonding potential of the aforementioned culinary activity that he's even managed to find some typical braai fodder that he characterises as emblematic of South African society as a whole - the boerewors.
This 'farmers' sausage', which is made up of coarsely ground, spiced beef with a bit of lamb or pork thrown in for good measure, is, he believes, an excellent gastronomic analogy for a Rainbow Nation.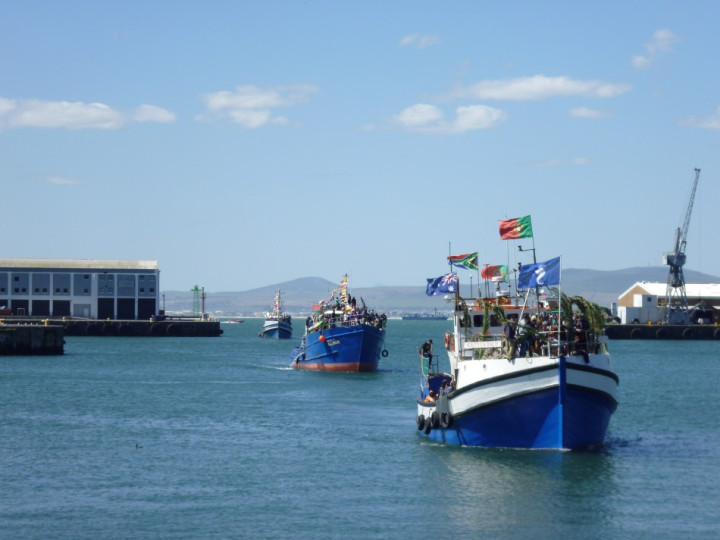 To illustrate his point, in an interview with US National Public Radio as part of its 'Global Grill' series, he indicated that it was European settlers who first brought their sausage-making skills to Africa.
Spices such as nutmeg and coriander, plus the knowledge of how to use them, came from the East, while in Africa itself, it's still traditional to cook your food over a fire. Ingenious.
Cultural heritage
But Mr Braai has also managed to do remarkably well for himself out of these inclusive ideas. In fact, he now hosts his very own TV show, which is currently in its third season, has published a best-selling braai cookbook and has become an all-round media personality to boot.
He also broke a Guinness World Record this year for running a two-day braai at the V&A Waterfront in Cape Town, making it the longest such event ever at 28 hours and 30 minutes.
But it wasn't always this way. September 24 was, in fact, only designated as a public holiday in 1994 following a rather typical political dispute. The Zulu Inkatha Freedom Party had refused to sign the new Public Holiday's bill going through the South African Parliament after the fall of apartheid.
Its members had taken umbrage at the fact that the Bill failed to include a day to commemorate the death of their revered King Shaka, who was, ironically, instrumental in uniting Zulu clans into a cohesive nation.
Because compromise was necessary to get the Bill passed though, the anniversary of King Shaka's murder by his two half brothers was chosen as the day for all South Africans to celebrate their diverse cultural heritage - and hence Heritage Day was born.
One particular cultural heritage that I didn't even know existed in South Africa until recently, however, is that of the Portuguese. So when my Beloved came across a listing in www.whatsonincapetown.com for an event last Sunday to bless their fishing boats at the V&A Waterfront, my interest was piqued.
It turns out that the community is about 500,000-strong, following waves of migration that started in the 1920s.
Most of the new immigrants at that time settled in and around Johannesburg, setting up fruit and vegetable shops as well as takeaway food places. And, interestingly, it is in the culinary arena - think peri-peri chicken - that the Portuguese have made one of the biggest contributions to the country.
The Blessing of the Fleet
In fact, it was Fernando Duarte, a member of the Portuguese community who migrated from Mozambique in the 1970s, who set up the now-global Nando's chain with a Jewish friend, Robert Brozin, after buying a small restaurant called Chickenland in Johannesburg in 1987.
It was in the 1950s, however, that the Portuguese link with South African fishing began. At that time, employment prospects in places like Madeira were poor, but the apartheid government of Hendrik Vorwoerd was keen to shore up the white presence by encouraging Europeans to migrate.
So a good number of Portuguese men came to join the fishing industry or to work in the ports in order to earn enough money to send for their families. And they are still influential in the world of South African fishing to this day.
Knowing how lively and colourful Mediterranean festivals can be, therefore, I was keen to go along to see the Blessing of their Fishing Fleet. The event has apparently been happening in Cape Town since 1989 in order to ask God for an abundant season, which starts in late September or early October.
The festival itself though starts on the Saturday night with a celebratory dinner, during which the King and Queen of the Sea as well as the Fishing Boat of Honour are chosen.
The latter carries a statue of Our Lady of Fatima around the harbour, accompanied on this occasion by the (Catholic) Bishop of Cape Town and lots of parishioners, while a second vessel does the same with a statue of St Peter draped in fishing nets as the 'Fisher of Men'.
An anchor of flowers is apparently likewise blessed and cast into the sea to commemorate the fishermen who died there. But somehow, despite apparently being physically present enough to catch the tail end of Mass in a huge marquee in the harbour, we somehow managed to miss the much-anticipated procession entirely.
The two statues just seemed to magically appear on the relevant boats, before they took off at the head of the fleet without so much as a laying-on-of-hands, or a blessing, to be seen. All very disappointing for us, but I guess that's what they mean when they talk about miracles.
READ:
South African Adventures: The Link Between Abba and Breaking Bad [BLOG]
South African Adventures: Floral Tributes Herald Rebirth of Spring [BLOG]
South African Adventure: That's Entertainment Cape Town-Style [BLOG]
South African Adventure: Cheese, Wine and Classic Vinyl Create the Perfect Market Combo
South African Adventure: NHS Model to Fix Healthcare Shambles [BLOG]
South African Adventure: Winter Wonderland in Hermanus
South African Adventure: Johannesburg, City of Gold without the Lustre [BLOG]
My South African Adventure: Paarl, The Town Where Nelson Mandela Walked to Freedom when Apartheid Died [BLOG]
My South African Adventure: The Legacy of the San Hunter-Gatherers [BLOG]
My South African Adventure: Lynedoch Eco-village Rolls Back Pain of Apartheid [BLOG]
My South African Adventure: How Living Abroad Brings out Green, Green Grass of Home [BLOG]
Cath Everett is a resting journalist who has written about business, technology and HR issues for over 20 years. She recently moved from the UK to South Africa with her husband