South African EFF firebrand dubbed 'little and irrelevant' for Robert-Mugabe 'grandpa' jibe
EFF leader Julius Malema told 92-year-old Zimbabwean president: 'Grandpa, it's enough now, let go!'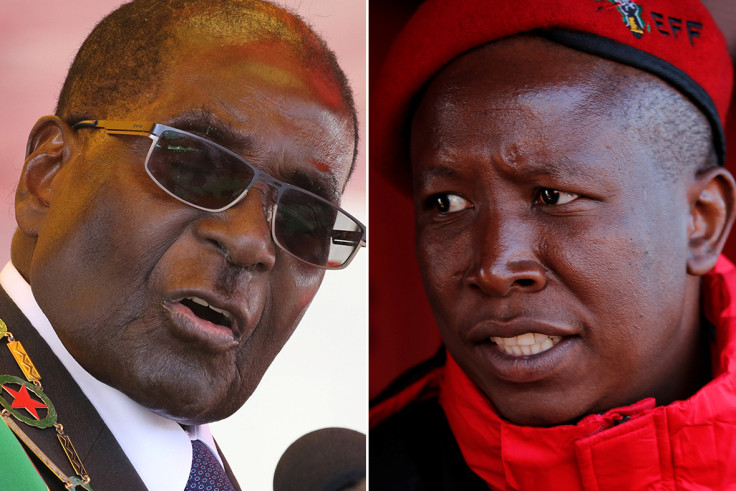 Zimbabwe's ruling party officials dismissed South Africa's firebrand opposition politician Julius Malema's calls for 92-year-old President Robert Mugabe to retire.
On Monday (23 January), South Africa's Economic Freedom Fighters (EFF) leader Malema – who supported the Zimbabwean regime's battle against white minority rule – called for Mugabe, who will celebrate his 93rd birthday next month, to step down.
At South Africa's third-biggest political party's HQ in Braamfontein, Malema said: "We say this out of love. Not because we hate him. We celebrate Mugabe, we celebrate what he has done and we will continue his legacy, but grandpa it's enough now."
Malema has been outspoken in his praise of Mugabe – who has been in power since 1980 – however, since December 2016, Malema has been warning Mugabe his time is up .
In response, a ruling Zanu-PF party MP, Psychology Maziwisa, took to social media to dismiss claims that "grandpa" Mugabe should step down.
"Not bothered at all by Julius Malema's latest ranting. He is a little and irrelevant man who is trying desperately to gain political mileage in South Africa by insulting a great man in Zimbabwe. Won't win!" wrote Maziwisa, who has worked in Zanu-PF's information department.
Mugabe, who is eligible to seek re-election at the end of his current five-year term in 2018, was recently nominated by Zanu-PF as its presidential candidate.
Following publication of his post, social media users also reinvigorated the row over ageing Mugabe.
"I am 100% behind Zanu PF. Julius Malema is 100% right. Why do u want to continuously torture the old man. He is our hero no doubt about it and there are people who are more than capable to take over in Zanu PF. Grandpa must rest," Mechell Ndlovu, a Zimbabwean entrepreneur from the capital Harare, said.
Another social media user, Zimbabwean nurse Awslyc Gambiza, said: "And how does Malema gain political mileage by stating a fact? A fact which will benefit Zimbabweans... We need fresh blood, party politics aside."
Watch Malema tell Mugabe to retire here:
© Copyright IBTimes 2023. All rights reserved.