Zimbabwean activists have accused their First Lady of being "the Trump of Zimbabwe", in reference to US President Donald Trump's penchant for luxury, after details of her lavish spending emerged.
In a country where millions face hunger and starvation, President Robert Mugabe's wife Grace Mugabe has come under fire after the couple's lavish spending was exposed in a court battle with a Lebanese tycoon over an aborted deal for a $1.35m diamond ring, reported to be a gift for the Mugabe's wedding anniversary.
Court documents filed by businessman Jamal Ahmed, to whom the First Lady demanded a $1.35m refund in Dubai after Ahmed allegedly failed to deliver the ring on time, revealed that the Mugabes were paying up to half a million dollars a year on for a 10-bedroom villa in Dubai. The property is located in an exclusive and upmarket area of Dubai, in the United Arab Emirates (UAE), and rentals translate to some $42,000 per month.
Nomusa Dube, a member of the Zimbabwe Vigil group, condemned the conspicuous spending amidst drought and hunger.
"It's just ridiculous, especially given the situation in Zimbabwe at the moment where millions are going hungry, that she goes and spend that much money," she told IBTimes UK. "You can compare the two [Grace Mugabe and Donald Trump] because like Trump she is all about the money and neglecting everybody instead of caring."
"She is supposed to be the mother of the people of Zimbabwe but she's just taking care of herself and her family. It's so unfair for the Mugabes to be doing that yet they know that there are people suffering every day, people with no food, people dying of diseases," Dube, who is also a member of the opposition MDC-T party, added.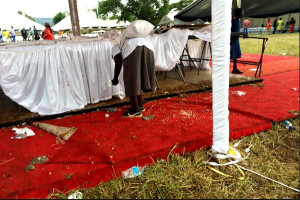 This new critique comes after it was reported that Mugabe was spending close to $6m during his month-long annual leave in the Far East, which he combined with a business visit to his Chinese counterpart Xi Jinping to secure financial assistance to aid Zimbabwe's struggling economy.
"Nobody knows exactly where they [the Mugabe family] are finding the money to fund this spending spree," Dube said, highlighting that the bankrupt Zanu-PF government should use state funds to develop Zimbabwe.
This includes paying certain state workers who have not received salaries for December, and funding an estimated $250,000 to contain a cholera and typhoid outbreak in some parts of the country. The epidemic has so far killed nine, according to health officials.
Last year, the Zimbabwean government pleaded for $1.5bn (£1bn) in food aid to prevent the death of 1.5 million people, according to the World Food Programme. This came after Mugabe's ZANU-PF, which has been the ruling party since 1980, came under fire for spending up to US$1m (£559,600) of taxpayer's money Mugabe's lavish 92nd birthday party, which included a huge cake weighing about 203 pounds (92kg).