A fiery Zimbabwean cleric, Pastor Patrick Phillip Mugadza, who was arrested for claiming that nonagenarian President Robert Mugabe will die later this year, has been charged.
In recent months, the nation of almost 16 million people has been rocked by a social movement that successfully managed to shut down the capital Harare in a series of protests against bad governance from Mugabe's regime.
At the forefront of the anti-Mugabe movement in recent years, Mugadza made headlines when he chained himself to a pole in a protest against the head of state in April this year, and later deposed a petition at the Vatican embassy in the capital Harare asking the Roman Catholic Church to excommunicate Mugabe, a Catholic.
According to his lawyer, police officers who interrogated Mugadza at the capital Harare's Central Police Station alleged that the cleric on 13 January "unlawfully acted in a manner which is likely to create a nuisance" by prophesying in October that Mugabe will die on 17 October 2017, according to The Zimbabwean.
Dubbed the 'Mugabe-Must-Go' pastor, Mugadza was charged for misrepresenting to the public that the prophesy was a true prophesy. The cleric, represented by Gift Mtisi of Zimbabwe Lawyers for Human Rights, denied the charge.
Authorities were initially charging Mugadza for insulting and undermining the authority of the president in contravention of Section 33 of the Criminal Law Act before altering the charge.
After the clergyman's arrest, Mtisi told AFP that Mugadza had been in Harare's magistrate court for the suspected crime of draping himself with Zimbabwe's national flag without seeking permission from the country's authorities, when police officers detained him for his remarks about Mugabe's age. The regime, which has been facing months of protests, made the highly unusual move of banning private citizens from using their flag, in September.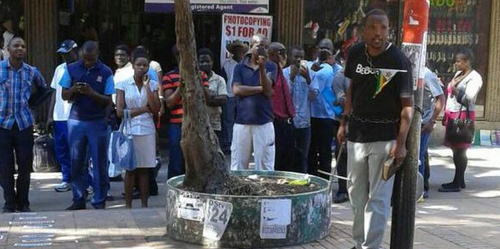 "He was appearing at the court on a different matter when police arrested him during a break and charged him over the prophecy," Mtisi said. "He was initially charged with undermining the authority of the president and the charge was later changed to insulting people of a certain race or religion."
Rights advocates have described the notion of undermining the authorities of the president as as very vague and broad.
Mugabe, who has been in power since Zimbabwe gained independence from British colonial rule in 1980, has quashed any debate about his succession after he claimed he is still in charge, will go on until his term ends in 2018 and that he will rule until he is 100.
However the 92-year-old's condition has significantly deteriorated in recent years, sparking speculation about his health. He has also made frequent visits to the Far East for medical treatment, which have compounded concerns about how long his reign will last. In September, Mugabe denied rumours of his physical frailty, making outlandish claims that he had been resurrected from the dead.