South Africa's ruling African National Congress (ANC) has said it is planning on laying criminal charges against opposition Economic Freedom Fighters (EFF) leader Julius Malema, after he vowed to fight the ANC government by force.
The ANC's statement comes days after Malema told Al Jazeera he is prepared to remove the governing party "through the barrel of a gun" if President Jacob Zuma's government responded violently to peaceful protests.
Asked whether he was "literally" saying people should take up arms against the government, Malema said, "Yeah, literally. I mean it literally. We are not scared. We are not going to have a government that disrespects us."
He added: "We are not going to accept. Part of the revolutionary duty is to fight and we are not at shame if the need arise for us to take up arms and fight. We will fight (...) This regime must respond peacefully to our demands, must respond constitutionally to our demands".
ANC: Malema's 'utterances are treasonable'
ANC national spokesperson Zizi Kodwa said: "(Malema's) utterances are treasonable and constitutes a violation of the Independent Electoral Commission (IEC) charter which was signed by all political parties... committing them to a free and fair election."
In March, Malema challenged the ANC to a snap election after the Constitutional Court ordered Zuma to personally pay the construction cost of work at his private Nkandla residence, after it found Zuma's conduct was inconsistent with the constitution and invalid. The next general election is scheduled for 2019.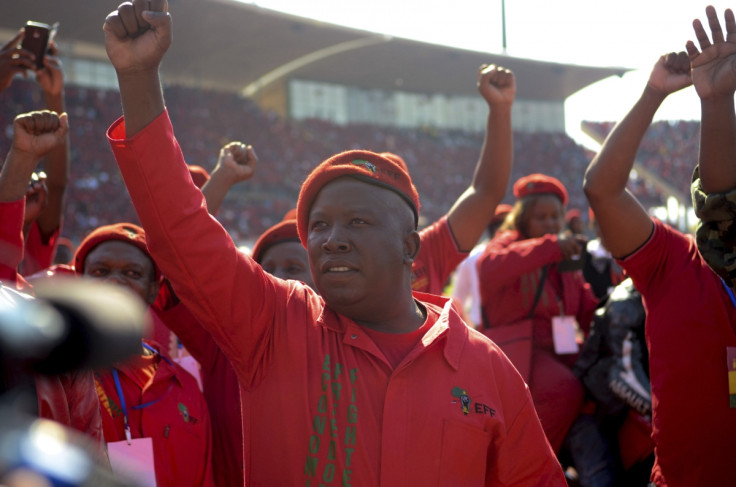 "We would expect the state to act against this conduct. The state must investigate treason charges against [Malema]," Kodwa told News24, adding the party was taking Malema's threat very seriously.
"We are going to lay criminal charges, because we don't think this is just the issue of human rights for someone to call for a blood bath and mass slaughter. Because a civil war will bring about manslaughter, nothing else."
Malema: 'ANC standing in our way'
During the interview with Al Jazeera, Malema said that the EFF was not to wage war against Zuma and the ANC – the anti-apartheid party of Nelson Mandela – but that the party is "waging a war against the white monopoly capital".
He added: "Zuma is not our enemy, the ANC is not our enemy, they are standing in our way to crashing white monopoly capital which has stolen our land, which controls the wealth of our country, and as we are in the process of crashing the white monopoly capital, there will be some of those irritations that we have to deal with and Zuma represents such an irritation, the ANC represents such an irritation."