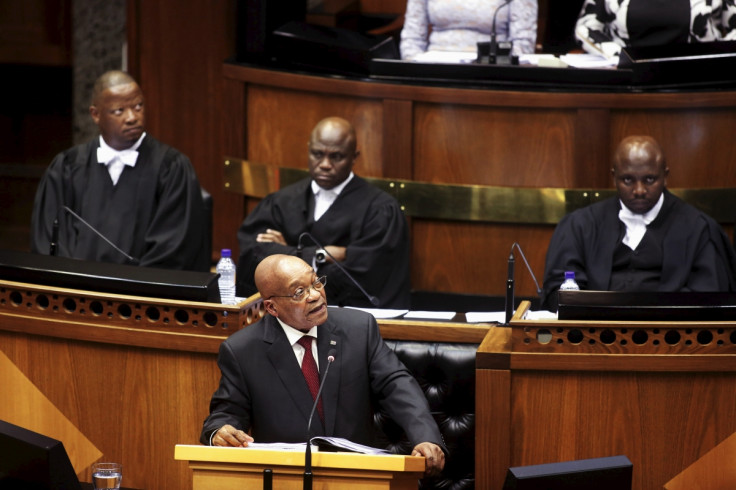 South Africa's President Jacob Zuma was repeatedly heckled in parliament during his annual address forcing the speaker to throw out opposition lawmakers. The joint session of parliament was disrupted primarily by members of the left-wing Economic Freedom Fighters (EFF) when Zuma's much-anticipated State of the Nation speech was underway.
The speech, which was delayed by an hour due to protests, was interrupted right from the moment he made his way to the podium. "He [Zuma] has stolen from us," shouted EFF leader Julius Malema as Zuma was about to speak. Opposition members and critics are furious at the government for the poor state of the economy and swirling corruption scandals – which include allegations that Zuma utilised taxpayers' money to renovate his lavish private residence.
"We do not recognise him as our president. He is not our president," said Malema before shouting slogans: "Zupta must fall, Zupta must fall" – referring to the links between the powerful Gupta family and Zuma. Soon after the EFF MPs were asked to stay silent, they left the assembly. "You are prepared to remove a whole party which has been elected by the people ... [to protect] one man," added Malema while walking out. Hundreds of opposition protesters also took to the streets shortly before Zuma's address to parliament.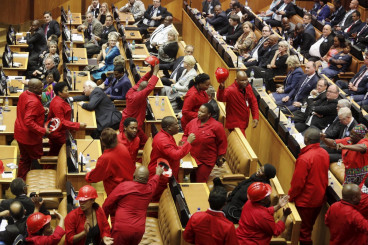 Amid the protests and chaos, Zuma promised an economic turnaround in the face of potentially devastating downgrades of South Africa's credit rating. "Our country seems to be at risk of losing its investment grade status from rating agencies. If that happens, it will become more expensive for us to borrow money from abroad to finance our programmes," said the president.
He added: "We all have a lot to do to turn the economy around and to cut wastage. We will go through a difficult period for a while, but when the economy recovers, we will be proud of ourselves for having done the right thing."
South Africa is expected to grow less than 1% in 2016 with nearly 25% of the population unemployed. As part of austerity measures, Zuma has urged parliament to reconsider the presence of two capitals – Pretoria for administrative purposes and Cape Town for legislative reasons – in order to rein in maintenance costs.