South Africa is in the grips of its worst drought on record, and with an intense heat wave showing no signs of abating, the crisis could provide a mortal blow to the presidency of beleaguered ANC leader Jacob Zuma.
News24 reported 11 people have been confirmed killed by the unprecedented heat wave according to national health officials. In the North West province, temperatures have reached 40C and conditions are expected to persist for the next two months.
Strong El Nino weather patterns have caused the soaring temperatures experienced across South Africa, Zimbabwe and Namibia, and other countries in the region. Eastern Africa, which has seen wetter conditions in recent months, is bracing itself for drought later in 2016. The UN has said in Ethiopia 10 million are at risk of starvation.
In South Africa the drought is exacerbating economic woes which are already plaguing an embattled Zuma along with accusations of corruption. With the Rand in relative free-fall and a consumer debt problem, South African farmers and food producers are struggling to keep prices affordable as crops are decimated by the drought.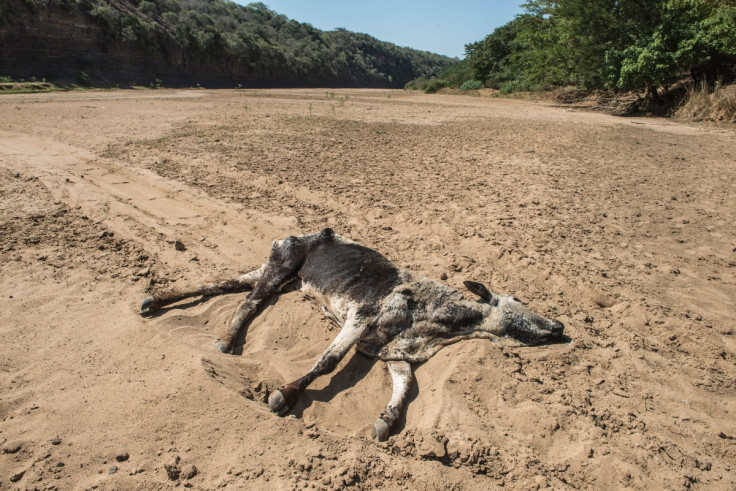 The state is looking to import maize to offset the effects at massive cost. South Africa's Agriculture Minister Senzeni Zokwana told News24 the country would need to import 6 million of tons of maize to stave of the crisis, worth R20bn (£830m, $1.2bn), according to some estimates.
"In the worst case scenario, the nation would probably need to import as much as four million tons of maize. There is a possibility of five to six tons import needs of both white and yellow maize. Combining with the predicted regional needs such as Zimbabwe, Lesotho, Namibia, Botswana and Swaziland, import needs will be at 10.9 million tons, covering other commodities such as soya and wheat," Zokwana was quoted as saying.
A paper by the Institute for Security Studies (ISS) has called the effect of the drought "catastrophic" and questioned Zuma's lack of urgency over the issue. A lack of political leadership has meant farmers have been forced to fend for themselves.
The ISS has said South Africa is over-exploiting its freshwater resources. Those farmers who are already too poor to afford water have had to look to charity from the neighbours. In some areas, children are drinking sewerage water out of desperation.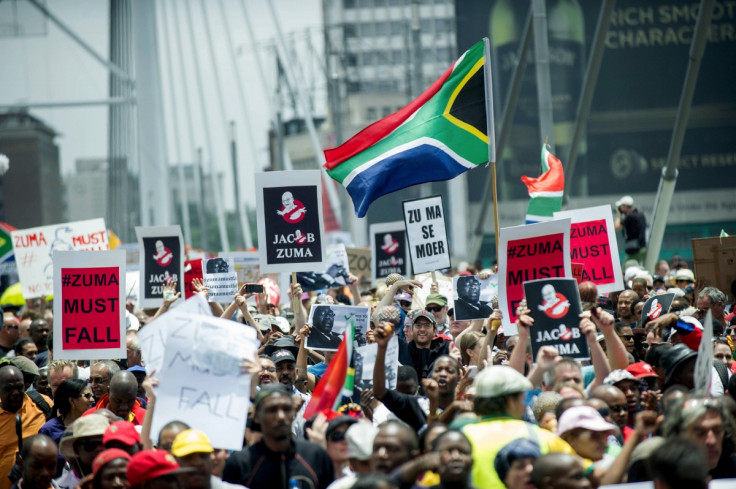 Increasing dissatisfaction with Zuma's leadership has reopened racial rifts in the country and launched an increasingly popular 'Zuma must fall' campaign which spread quickly on social media along with other so-called hashtag protests in South Africa.
A 'Zuma Must Fall' banner which appeared in Cape Town has been removed by ANC supporters, but the anti-Zuma protest movement, which reached its peak in December, has merged with the #FeesMustFall campaign, a student movement which caught the public imagination in October.
People in Pretoria, Cape Town, Port Elizabeth and Johannesburg took to the streets at the close of 2015, insisting that corruption has worsened in South Africa since Zuma came to power in 2009. The march coincided with the public holiday, Day of Reconciliation, which is to encourage national unity and was again precipitated by economic woes.