South Africa's sex workers are lured by cash but face lethal risks beyond disease and addiction
There are incredible risks to sex work that extend beyond sexually transmitted disease and drug addiction.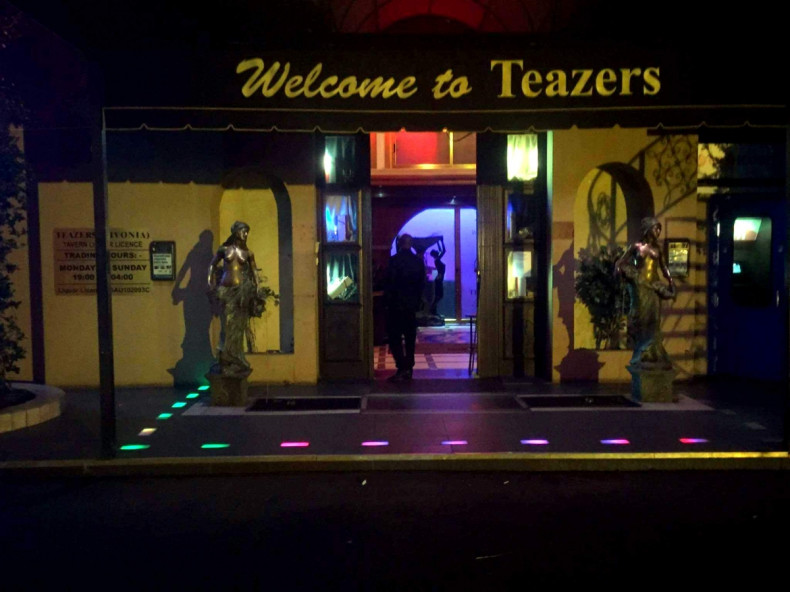 Peter Germond has spent the last four years visiting escorts all over South Africa, but not as a punter. He visits brothels across Johannesburg taking pictures of girls that sell their services online. He hears lots of stories – most of them not good.
Like that of Cherry, a girl he photographed a few weeks back that a day later turned up dead: "I never learned her real name," he recalls.
There are incredible risks to sex work that extend beyond sexually transmitted disease and drug addiction. There are countless untold stories of escorts being abused by clients or turning up dead in hotel rooms and houses.
"Sometimes you find the girl was murdered by a punter, sometimes they're taken by a gang of men, raped and left on the street, and sometimes they're even forced to overdose on drugs," says Germond.
There is a contingency of Eastern European women seeking fortune in South African revue clubs, along with myriad Thai women working in massage parlours offering more than a relaxing shoulder rub. Where wages are as good as the warm weather, women the world over have entered South Africa's sex industry looking to make money for their families back home. Some don't quite get what they signed up for.
Decriminalisation of prostitution in South Africa has been under active discussion since 2009 – a debate sparked in consideration of the several hundred thousand football fans flocking over for the 2010 Fifa World Cup. Unresolved, South Africa is considered to have conditions right for human trafficking; without proper legislation and laws which view human trafficking as extortion or kidnapping, it's incredibly difficult to track down and prosecute perpetrators.
Behind the debate around legalisation anywhere is a strong argument for the safety and protection of women and children in the sex-trade; this sometimes overshadows the very real issue of human trafficking - especially in South Africa. One of Cape Town's gentleman's clubs, Mavericks, was under investigation in 2012 by the South African Human Rights Commission. The dancer application section of their website advertises to foreign women boasting: "Here you can earn between 7,000 and 9,000 US dollars per month, women who want to work in a club are welcome all year for a minimum period of 3 months."
It was suspected that Mavericks would recruit foreign women into South Africa for the purposes of sexual exploitation, under the guise of exotic dancers or independent performers. Once in South Africa, their passports were withheld, effectively trapping them in the country. Not being able to speak English and with limited job skills, most would be forced into a life of sexual slavery and drug abuse.
There's a thin line between an exotic dancer and a prostitute in South Africa. "At some clubs a little more goes down than just good, clean fun; but owners don't own up to that because it's illegal," says Zee, South African professional exotic dancer. Zee has been dancing in revue clubs around South Africa since 2008 and says most of her colleagues throughout her career have been from Eastern Europe. Soliciting sex from a dancer is completely against the law, of course; however Zee insists "it's gotten to a point where girls give in because you have to compete with the other [foreign] girls doing extras (considered anything more than dancing topless on a pole)."
Zee goes on: "Levies are so high that it's easier to do extras because we can charge more. More and more girls are doing it so it's not even a taboo any more. But if you ask the owner, he pleads ignorance and says girls are not allowed to do it." With a shrug Zee says, "but it still happens."
To keep up with competition, Zee works sex toys into her private routine and does girl-on-girl shows to impress her clients. "I've also seen a lot of the girls fall down because of drug and alcohol abuse" – cocaine being a popular drug shared in the club venues. The hours are long, the work is strenuous and would almost certainly take a toll on anyone's health.
In the case of Mavericks, the report was not conclusive on whether the abuse constituted human trafficking, though this type of arrangement appears to occur in brothels, too. "Like dancers, some escorts are under contracts and work to buy their way out. But most girls don't see a cent until they have paid off their debt and sometimes their passports get 'lost' along the way," says Germond.
If an escort works out of a brothel house, they generally have to pay occupational rent and for other amenities. "Sometimes you get a Pretty Woman story playing out, with men trying to rescue the girls. It rarely works out though... for the punter or the girl," says Germond.
Buying a prostitute out of her 'contract' can be very dangerous work given most large brothels are owned by gang members using massage parlours and gentleman's clubs to front a darker secret.
"Some massage parlours will only offer intimate massages but no sex, and others have girls who will offer anything you ask for," says Germond. A number of the brothels have legal business rights because they front as conservative massage parlours. Although most massage parlours are indeed just that, Germond insists "there are still a number of them offering happy endings and fronting as 'rub 'n tug' joints."
What makes the industry particularly difficult to regulate is that the people running the trade are also often involved in other illegal activities such as dealing drugs, selling firearms and human trafficking. Their involvement in the sex industry serves as a 'lesser-evil' front to their other businesses and a way for them to burn excess cash. "It's difficult to regulate and track something like selling a massage because there's no standard pricing model for it," says Germond.
Each country's governing laws around prostitution provide a unique set of circumstances for the women in the trade. In Japan, the law states that it's illegal for more than one prostitute to work on the same premises. This has led to a phenomenon known as the one-woman brothel. In South Africa, "just about every apartment complex or flat has contained a brothel apartment at some point or another," says Germond. Brothels don't last very long in complexes because other residents soon become suspicious of guest traffic and dubious behaviour at late hours.
Most of the time reasons for the brothels closing down are drug use and serving alcohol. "Sex isn't illegal; sex for money is illegal... the trick is that prostitution is a very difficult thing to prove," says Germond. "You can do just about anything you like in the comfort of your home but your house can't get searched without probable cause." On the side of the law, it's easier to cite probable cause for drug use, selling alcohol without a licence or serving booze to a minor.
Some houses accommodating a number of women will host events serving as a networking opportunity for clients and escorts to mingle, get to know each other over a casual dinner, drinks and drugs. It's a chance to thank the clients for their business and incentivise loyalty. Often times the children of the prostitutes will be at these parties too.
Sadly, there is little pity shown from police officials in cases where girls are abused or murdered. Because a lot of these women are from foreign countries and don't have close family members or friends nearby, not many people take notice of such incidences.
Most escorts keep their money in cash instead of a bank. This makes them particularly susceptible to burglary and with little repercussion. It would be difficult for them to lay a charge or report the money stolen. "The police would just take advantage of the women anyway. They'd rape them or take their money," says Germond.
Unfortunately, most escorts carry heavy drug addictions from GHB (commonly referred to as the 'date rape' drug), to cocaine, crack and meth. A lot of these women get into the sex industry due to the lure of easy money and essentially get turned into junkies by their clients.
Escorts in South Africa get offered a great deal more money to take drugs with a punter – up to a R5,000 (£242) flat rate on top of the standard R450 (£22) to R800 (£39) she would earn per hour according to Germond. Given the effects of cocaine and the like, these clients will invariably spend eight to ten hours with an escort.
"One woman I shoot earns around R70,000 (£3,390) a month... easily," says Germond. Sex isn't necessarily the goal with these meetings; most of the time it's a case of very lonely men [or men whose social or religious standing means this must be a deeply kept secret] looking for a companion to enjoy illegal drugs with.
There are many models assigned to regulating prostitution and each will have its benefits, pitfalls and unintended consequences. This may be because the conditions of the prostitution industry are mere symptoms to a much greater problem involving drugs, money, arms and much more.
While it's difficult to offer a sustainable solution to the booming foreign prostitution industry in South Africa, there is an urgent call to address the issue of human trafficking; an issue that is perhaps not only South Africa's concern.
---
Skye Forrester is a contributor to a number of print and online publications spanning sectors including natural health, social and political commentary, as well as food and fashion trends. Follow her on Twitter @qwertysmirks