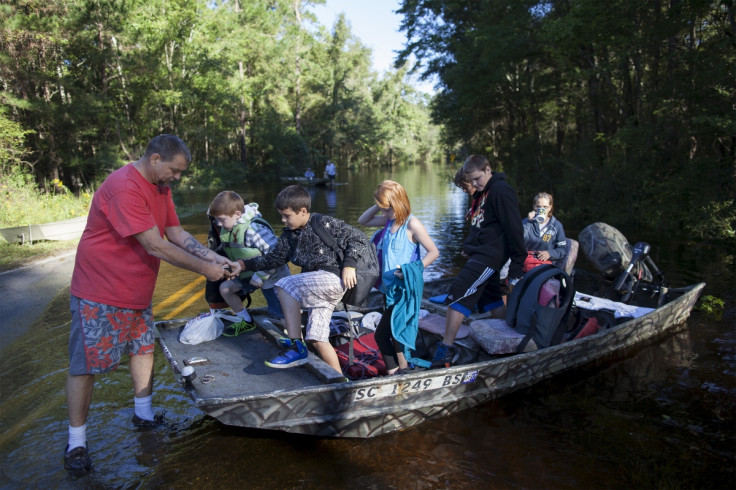 Record breaking flooding in South Carolina has led to at least 17 deaths, with authorities warning that more flooding is expected along the coast. Two bodies were recovered on 7 October in Richland County from a truck that had driven around road barriers and was caught in floodwaters, Lieutenant Curtis Wilson said.
Included among the dead were those who drowned or were killed in vehicle crashes, Reuters reported. The historic rainfall, more than 2 feet (60 cm) in some parts of the state, has also forced hundreds to evacuate and seek shelter in higher ground.
In the capital city of Columbia, fears that a dam might breach and flood neighbourhoods led over a 100 people to seek shelter at a local high school, according to Reuters. "We thought better safe than sorry," 56-year-old Melissa Harrington said. "I know that God would protect us, but I'd rather not get a ladder and perch atop the house if I can help it."
Columbia Mayor Steve Benjamin added on 6 October, "We aren't close to being out of the woods. We still expect the water to start coming down from the Upstate, coming downhill to the Midlands."
According to state officials, 13 dams and around 270 state-maintained roads and 140 bridges have been closed. Continued flooding have been forecast through the weekend despite the rain ceasing, particularly on the coast.
"Things are about to get worse on the coast," Governor Nikki Haley told reporters on 7 October. "It's not over yet." Haley said that at least 600 people and animal rescues had been made and that over 300 people were staying in 23 shelters.
CNN reported Haley declined to discuss ongoing questions regarding South Carolina's infrastructure, saying those issues will be tackled later. She also reportedly declined to provide an estimated cost of the damage. "It's hard to look at the loss we're going to have," she said. "This could be any amount of dollars."