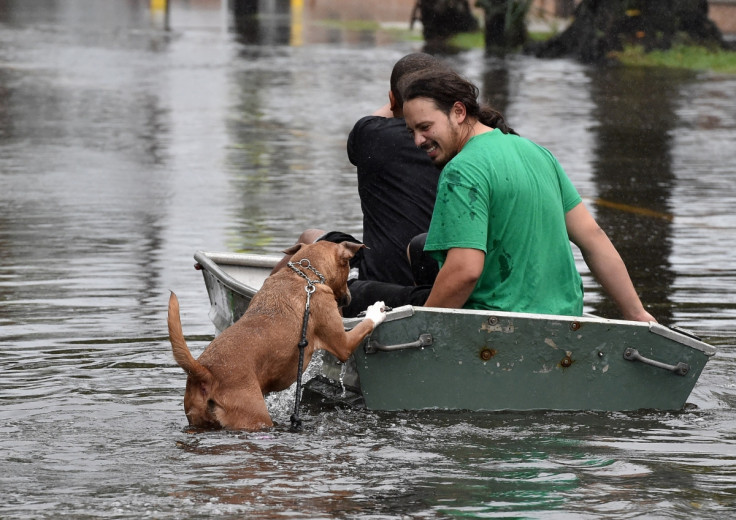 As South Carolina continues to deal with its worst deluge in 1,000 years, residents have been urged to stay off the roads due to conditions "changing by the minute". Emergency responders have promised further "concentrated search-and-rescue operations" for those who are still trapped after hundreds of people were saved over the weekend. Houses that have been checked will be marked with a bright orange "X".
According to the National Weather Service, Sunday (4 October) was the wettest day in the state capital, Columbia, and heavy rain persisted into the early hours of the morning in other parts of the Carolinas. Residents have been urged to stay home if it is safe to do so and not to drive any time due to downed power lines and water infested with bacteria.
"Rising water from flooding can carry viruses, bacteria, chemicals and other submerged objects picked up as it moves through storm water systems, across industrial sites, yards, roads and parking lots," the South Carolina Emergency Response Team said. Officials have said that Columbia residents should boil their drinking water, and five hospitals may be evacuated due to a shortage of water.
"This is an incident we've never dealt with before," Governor Nikki Haley said. "We are at a 1,000-year level of rain," she added. "That's how big this is." The scale of the flash flooding is so big that on 4 October, 600 National Guardsmen, 11 aircraft and eight swift water rescue teams were involved in search and rescue operations.
"The water is not safe and a lot of areas across the state where you see this deep water, it's got bacteria in it, so stay inside and don't get in there," Governor Haley said.
Between 1 and 4 October, 615mm of rain has fallen in Mount Pleasant, 517mm in Charleston, 406mm in Little River and 403mm in Myrtle Beach. Between 75mm and 150mm of rain is expected in the region on 5 October.
The flooding has wreaked havoc on South Carolina, with people being rescued from rooftops and cars while building infrastructure has been wiped away. The catastrophe has forced the closure of 211 roads and 43 bridges, according to the state Department of Transportation. All interstates out of Columbia had to be shut down due to the flooding and roads and bridges will have to be assessed to determine if they are structurally safe.
Seven people have died as a result of the disaster and President Obama has declared a state of emergency in South Carolina, freeing up federal aid to assist with state and local efforts.
Governor Haley will provide an update on the flooding at 11.30am EDT (4.30pm BST). To get the latest on the situation, follow South Carolina Emergency Management Division's Twitter account @SCEMD.