China's installation of weapons systems on disputed islands in the South China Sea has unsettled the Association of South East Asian Nations (Asean), Philippine Foreign Secretary Perfecto Yasay said on Tuesday (21 February).
The Philippines – chair of the 10-member bloc – called on both the US and China to engage in dialogue to stop escalation of tensions over the long-running maritime dispute. The Asean members also called for a maritime code of conduct to be agreed with China at the earliest to prevent further disputes.
Tensions between the US and China rose in the past week after the former announced on Saturday (18 February) that its aircraft carrier strike group has begun its routine patrols in the South China Sea. Washington's move irked Beijing, which warned the country against the so-called freedom of navigation patrols.
China recently completed war games involving its own aircraft carrier in the disputed sea, apparently provoking its neighbours – the Philippines, Vietnam, Indonesia and Malaysia – who dispute its claims on most parts of the resource-rich sea.
"The Asean members have been unanimous in their expression of concern about what they see as a militarisation of the region," Yasay told reporters on Tuesday, following a meeting of foreign ministers of other Asean member on the Philippine island of Boracay.
"They have noticed, very unsettlingly, that China has installed weapons systems in these facilities that they have established, and they have expressed strong concern about this," he said of the man-made islands on the disputed waters, Reuters reported.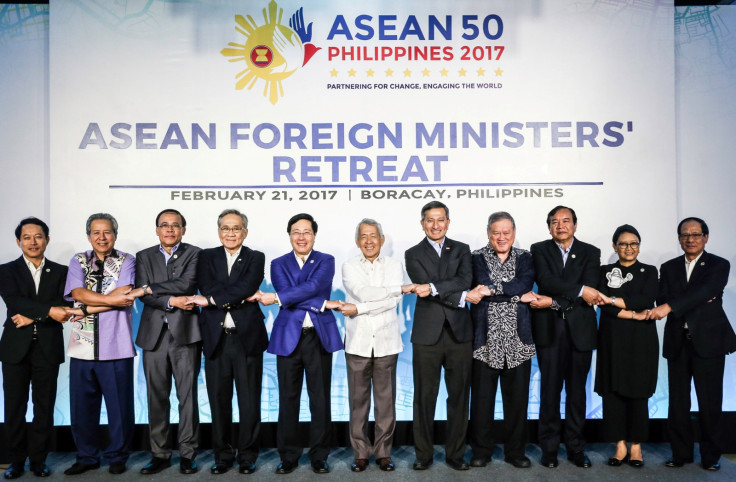 Amid uncertainties over new US President Donald Trump's policies on China and the South China Sea dispute, Yasay said: "We do not know the complete picture of what this foreign policy might be, insofar as its relationship with China is concerned. We're, however, hopeful that the policy that would come out will be positive."
He added that Asean members wanted to complete preparation of a framework for devising the maritime code of conduct by June, given that Beijing had also shown it keenness on finishing the task. The idea of having the code of conduct was reportedly agreed on in 2002, but little progress was made over the last decade, the news agency wrote.