Defending against North Korean nuclear and missile threats is a "very very high priority" subject, US President Donald Trump said during a joint press conference with Japanese Prime Minister Shinzo Abe on Friday (10 February) in Washington. He also emphasised the need to deal with the ongoing South China Sea and the East China Sea disputes.
Abe visited the new American president with the aim to deepen ties. The two leaders discussed vital trade and security links, including the Trans-Pacific Partnership (TPP) trade pact, from which Trump opted out soon after taking charge at the Oval Office.
"We will work together to promote our shared interests, of which we have many, in the region, including freedom from navigation and of navigation and defending against the North Korean missile and nuclear threats, both of which I consider a very, very high priority," Trump told reporters, apparently referring to the maritime disputes involving Japan, China and other Asian nations, as well as the looming North Korean threat.
North Korea's supreme leader Kim Jong-un warned the US recently that the country is on the verge of acquiring intercontinental ballistic missile (ICBM) acumen that would enable it to strike the US mainland. However, Trump retorted in a tweet, saying: "It won't happen". So far, Trump has not disclosed his plans and policy towards thwarting threats from the reclusive state.
Experts on North Korea speculate that the Pyongyang regime will soon carry out their next missile or nuclear test to scare the US. In 2016, the regime conducted two nuclear tests — in January and September — and more than a dozen failed and successful ballistic missile tests.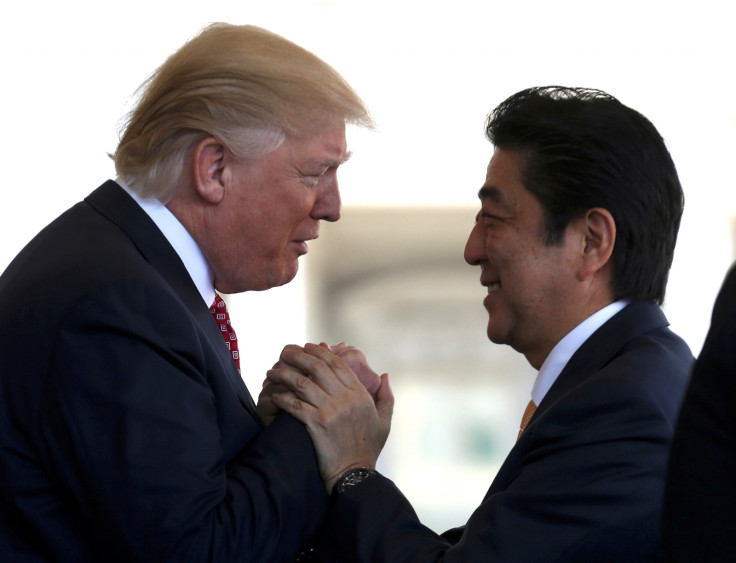 In their joint statement following the crucial meeting, Trump and Abe said they "strongly urge North Korea to abandon its nuclear and ballistic missile programmes and not to take any further provocative actions", Yonhap reported.
The two leaders reiterated their commitment towards complete implementation of UN sanctions against North Korea and added: "The US-Japan alliance is fully capable of ensuring the security of Japan. The United States is fully committed to defending its homeland, forces, and allies, through the full range of US military capabilities."