The United States is destabilising the South China Sea by exerting military pressure on China in the name of "freedom of navigation" exercises, the Chinese foreign minister has said.
In an interview with Al Jazeera, Wang Yi insisted that Beijing was not breaching international laws by constructing defence facilities on islands and reefs in the region.
He criticised the "double standards" of the US censuring China's military build-up in the South China Sea while its own military has aircraft carriers and strategic bombers in the region.
The remarks come days after the Pentagon revealed that one of its navy spy planes was intercepted by two Chinese fighter jets in the region in an "unsafe" manner.
"If one talks about militarisation, we have seen aircraft carriers coming to the South China Sea, strategic bombers flying over the South China Sea waters, and guided-missile destroyers coming close to China's islands and reefs, all to exert military pressure on China," Wang said.
"I am afraid this is what militarisation really looks like, including large-scale military drills and the construction of military bases of all sorts in the Philippines.
"Be it island construction or militarisation, there should be no double standards. It is not fair for one to criticise others on the one hand while doing whatever he likes on the other."
UN arbitration
The US has conducted several navigation exercises in the South China Sea – through which about $5tn (£3.4tn) trade passes annually – to challenge China's territorial claims.
There is increasing international concern that the continued animosity between Washington and Beijing in the region could spark a major naval conflagration.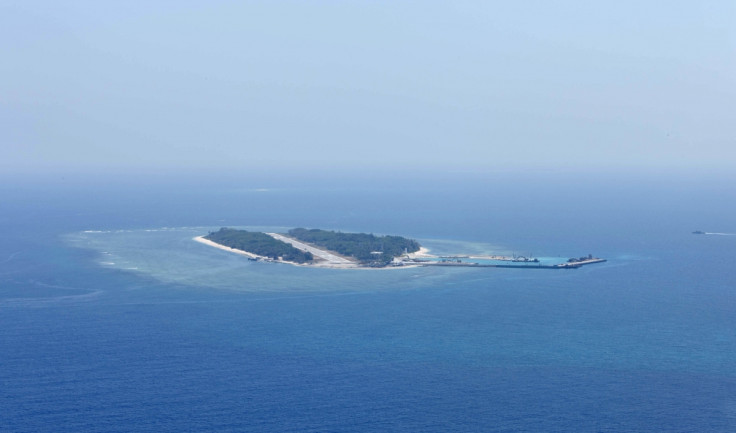 Wang said China remained committed to adhering by the principles of the UN Charter and that it was open to resolving the South China Sea dispute through dialogue with nearby countries.
He then went on to criticise the Philippines for not negotiating with China directly and instead filing an UN arbitration case to challenge the legality of Beijing's territorial claims in the region.
"The Philippines had not engaged in any serious bilateral negotiations with China on any of the so-called requests it submitted to the arbitral tribunal," Wang stated.
"It is the Philippines that still refuses to negotiate or consult with us."