North Korea's repeated nuclear and missile tests have raised questions whether it is still eligble to hold membership at the United Nations. South Korea has said it is time to reassess Pyongyang's qualification after it has been "totally ridiculing" the global body through its actions.
Speaking at the UN General Assembly on Thursday (22 September) in New York, South Korea's Foreign Minister Yun Byung-se accused the North of frequently breaching UN Security Council resolutions. He said the council must adopt stronger and "comprehensive" sanctions against the North and close the loopholes in the existing measures.
His remarks came after many global powers raised concerns over Pyongyang's latest and what it claims its biggest nuclear test on 9 September.
"North Korea's repeated violations and non-compliance of Security Council resolutions and international norms are unprecedented and have no parallel in the history of the UN," Reuters cited Yun as saying.
He said imposing stricter sanctions and cancelling its UN membership would be the "last chance" to end the North's nuclear aspirations.
"North Korea is totally ridiculing the authority of the General Assembly and the Security Council. Therefore, I believe it is high time to seriously reconsider whether North Korea is qualified as a peace-loving UN member, as many countries are already questioning."
Yun accused Kim Jong-un and his regime of violating the basic rights of North Koreans, especially of those people from the country who are working abroad. A recent report on human rights conditions of its overseas workers, published by South Korean news agency Yonhap, revealed that at least 40 North Koreans have died since January.
The report found the deaths were due to work-related accidents, diseases and suicides because of alleged pressure from the isolated nation on its people to send back more money.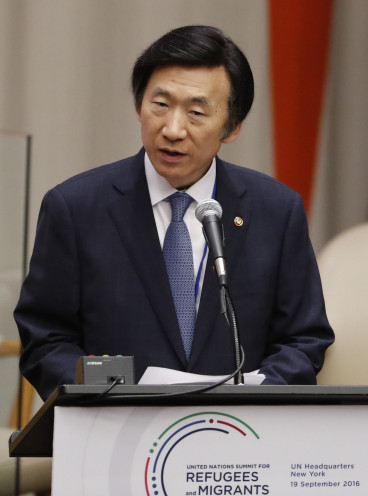 Yun called for greater focus on the overseas North Korean workers and said more action needs to be taken to prevent their money from being used for Kim's nuclear weapons programmes.
It emerged that North Korean nationals working in foreign countries are mandatorily required to pay $30 (£23) per person every three months towards Kim's regime. The amount is more than triple for some North Korean officials working in China.
The South Korean foreign minister also raised concerns over how Pyongyang's nuclear and missile capabilities have publicly threatened other countries. Several nations have called for new UN sanctions against Kim and his officials over the latest test. However, China, the North's main ally, is said to be blocking any such move.