South Korea Concert Disaster: Safety Planner 'Jumps to his Death From 10-Storey Building'
16 people died when a ventilation grille fell on crowd during music concert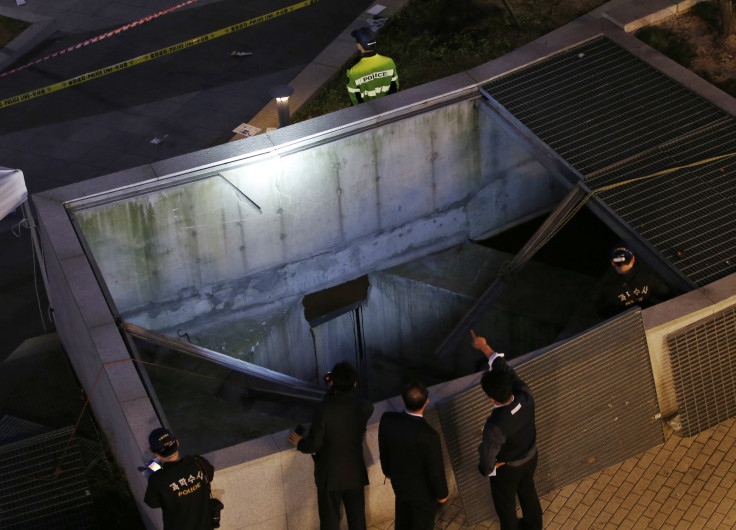 One of the officials responsible for health and safety at a music concert in Seongnam, South Korea where 16 people died in an accident has apparently committed suicide by leaping from a 10-storey building.
The 37-year-old, named only as Mr Oh, worked for Gyeonggi Institute of Science and Technology Promotion. According to city spokesperson Kim Nam-jun Mr Oh had been interviewed by police and shortly afterwards his body was found near the base of a building near the venue, Pangyo Techno Valley.
The accident happened on 17 October at a concert by the girl group 4Minute. About 700 people were at the concert, when a large number of music fans apparently stood on a large ventilation grille to obtain a better view. The grille collapsed, sending the spectators plunging up to 65ft into an underground car park. Sixteen died and 11 were injured, some with life-threatening injuries.
Lee Joon Seok the captain of South Korean ferry Sewol is seen leaping to his safety
Reuters
According to officials Mr Oh left a tragic note to his wife saying: "I am sorry for the dead victims. Please take good care of my children."
Fifteen other people have been questioned, including employees from local online news service Edaily. According to the Korea Herald, Edaily and the local council have each said the other was organising the concert.
A spokesman for the response centre, Kim Nam-joon, said the council received no request from Edaily to host the event but now was not the time to start pointing fingers. "The important issue right now is the psychological stability of the victims' families. The matter of who is responsible is an issue that needs to be settled legally based on the results of the police investigation."
Since the Sewol ferry disaster six months ago there has been considerable public debate in South Korea about whether safety regulations are keeping pace with the country's rapid economic transformation.
Almost 300 died when the ferry capsized, mostly schoolchildren from Danwon high school. The school's deputy head was so overcome with remorse that he hung himself.
© Copyright IBTimes 2023. All rights reserved.