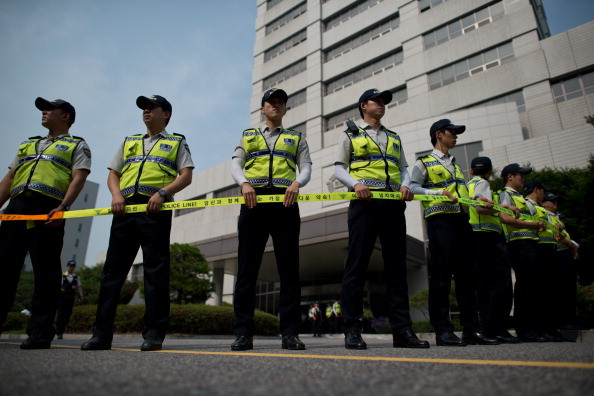 Student survivors of the South Korea ferry disaster on 16 April, in which over 300 perished, have recounted for the first time how they obeyed the crew's orders to stay put, even as water began gushing in and the Sewol listed.
One student witness recalled being repeatedly told to stay put as the ship started sinking.
"We were waiting and, when the water started coming in, the class rep told everyone to put on the life vests. The door was above our heads, so she said, 'We'll float and go through the door' and that's how we came out," said the student, quoted by Reuters.
Another student remembered escaping through a stairwell to a hatch and jumping into the sea. "There were many classmates in the corridor and most of them were swept back into the ship," she said.
The 6,825-tonne, Sewol passenger ferry, carrying over 476 passengers, had been on a voyage from Incheon to the southern island of Jeju, a volcanic holiday destination when the disaster happened. The majority of the passengers were secondary school students from the Danwon High School in Ansan City near Seoul.
The students, aged between 16 and 17, were heading on a field trip to Jeju Island. Only 75 students were known to have survived the tragedy.
The teenage student survivors are giving video testimonies under tight security, as the murder trial of the vessel's captain and crew began in the district court in Ansan City, outside Seoul.
While the actual trial is taking place in Gwangju, 265 kilometres (165 miles) south of Seoul, the judges and lawyers are holding a special two-day session in Ansan for the 17 students who agreed to testify.
The testimonies are being heard outside the main courtroom, in a nearby room, where the students are accompanied by their parents. None of the witnesses have been identified, however, their evidence was audible in the courtroom with their faces only visible to the judges and lawyers.
Sewol captain, Lee Joon-Seok, and three senior crew members are accused of 'homicide through wilful negligence' – a charge that can carry the death penalty. Eleven other crew members are charged with negligence and abandoning ship.