Seoul will begin evaluating alternative sites for the deployment of the Terminal High Altitude Area Defence (Thaad) system "as soon as possible", a South Korean defence ministry official has said. The announcement comes after the US-South Korea joint mission, aimed at tackling security threats from North Korea, faced strong protests from the residents of Seongju County, where authorities had decided to install the system.
The current site in a mountainous region of Seongju country near South Korea's south-eastern coast, about 296 km southeast of Seoul, is currently being used as a South Korean air defence base. However, an area near a golf course in northern Seongju is reportedly emerging as a likely alternative site.
The people protesting the Thaad deployment in Seongju had recently submitted a formal plea to Seoul, urging the government to review other possible locations. They cited health concerns for opposing the US-backed project, but the government has maintained that neither the Thaad battery nor its radar pose any threat to local residents.
Following the formal plea, the government has agreed to consider other options if local residents accept an alternative site for the Thaad battery, the Yonhap news agency reported.
"The government plans to evaluate candidate locations which are being mentioned for an alternative site for the Thaad deployment as soon as possible," the news agency quoted an official at the ministry of national defence as saying. The official, however, asserted that the evaluation of other locations does not mean the initial decision will be scrapped. "Until the outcome for the evaluation comes out, Seoul and Washington's original deployment decision remains intact," the official noted.
The golf course, if chosen as an alternative site, could again face opposition from residents of the nearby city of Gimcheon, Yonhap reported. Although fewer people live near the golf course area, which is located higher than the government-chosen site, there are still hurdles in the way of it becoming the alternative.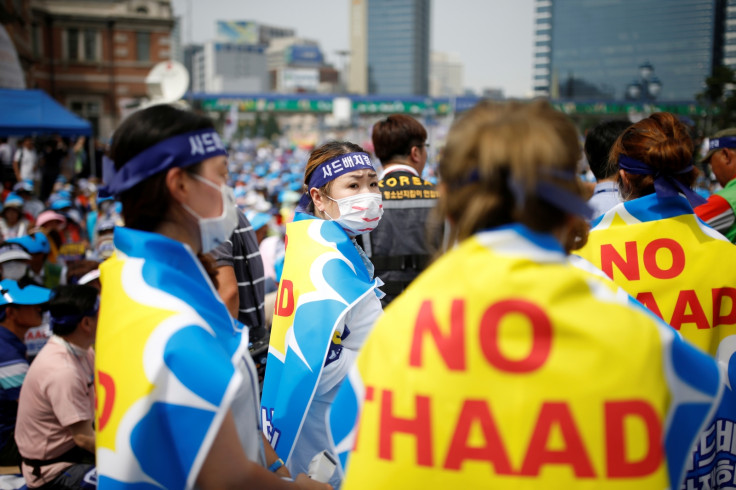 Washington and Seoul announced plans in July to deploy Thaad in South Korea as a protective measure against rising threat from North Korea's nuclear projects. The announcement irked the North which threatened to take counter action to ensure its own safety in the Korean peninsula.