The full horror of the South Korean ferry disaster continues to unfold, as the bodies of 48 young girls wearing lifejackets have been discovered in a single cabin of the doomed ship.
The ferry sank on April 16 on its way from Incheon port to the southern tourist island of Jeju.
More than 80 per cent of the 302 dead and missing are students from a single high school in Ansan, south of Seoul.
Divers have recovered 183 bodies so far, but 119 remain missing and are feared dead inside the submerged vessel.
The news comes as government officials were forced to admit that some of the recovered bodies have been wrongly identified, and that the wrong bodies were sent to the homes of several grieving families.
The South Korean government announced changes to the identification process to prevent such grave errors occurring in future. The bodies will now be identified through DNA and finger-print testing.
The error is a further blow to the relatives as they continue to wait for confirmation of the missing passengers.
Expressing their frustration and outrage 20 relatives reportedly forced their way into the office of Choi Sang-hwan, the Deputy Director of the Korea Coastguard. They also surrounded oceans and fisheries minister Lee Ju-young and coastguard chief Kim Seok-kyun demanding answers about the ongoing rescue effort.
"We are doing our work and we, too, feel the way you do," Seok-kyun said. "We are trying to bring all the equipment that we can."
While the cause of the disaster is not yet known, investigators are considering factors including wind, ocean currents, a turn made around the time the ship began listing and the freight it was carrying.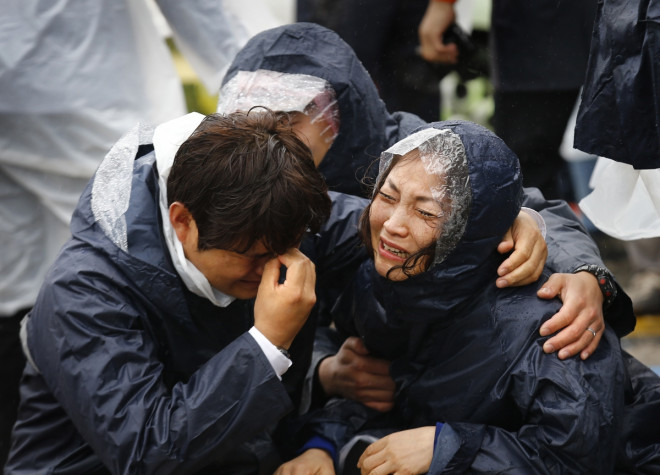 Moon Ki-han, a vice president at Union Transport, which loaded the Sewol's cargo, said it was carrying an estimated 3,608 tons of cargo, significantly more than Captain Lee Joon-seok is said to have reported in paperwork submitted to the Korea Shipping Association.
MP Kim Yung-rok of the New Politics Alliance for Democracy, an opposition party, claims he has procured documents from the Korean Register of Shipping that show the Sewol was carrying more than three and a half times more cargo than regulators allowed.
Seven crew members, including the captain Lee Joon-seok, have been arrested on suspicion of negligence and abandoning people in need.
Rescuers were able to save 174 people from the freezing waters, with the remaining passengers feared drowned.
If the fears of more loss of life prove correct, it would make the Sewol sinking South Korea's worst maritime disaster for 21 years.