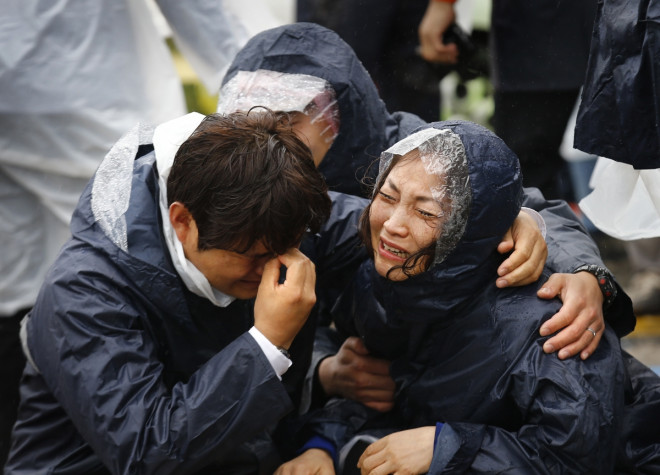 Desperate last messages by trapped teenage passengers to their frantic family members have frozen in time the moment seconds before a ferry capsized off the South Korean coast.
Nine people have so far been reported dead while 287 remain missing as the search efforts continue.
Messages and calls were made during the last moments of the ship staying afloat after instructions were given for passengers to remain where they were despite the vessel sinking.
A female passenger sent a text message to her father as the ship was sinking, which read: "Dad don't worry too much. I am wearing a life vest and am with other girls."

Her dad replied telling her to get out as quick as possible but she replied that the situation had become too perilous for her to move from her position.

"I can't. It's too tilted. Can't move... it's more dangerous if I move," she wrote.
Another student wrote to his mother on the KakaoTalk messaging app after the ferry's first distress call.
"Mum, I'm sending this because I might not be able to say it later. I love you."
His mother replied without knowledge of the vessel's capsize: "Why? ... I thought you don't check your KakaoTalk messages. Me too son... I love you."
Reports have emerged that this student was rescued after he sent the messages and was reunited with his mother.
Another student sent a message to his friends at a theatre club which said: "If I've wronged any of you, forgive me. Love you guys."
In other cases, parents made phone calls with their children before the vessel sank. One mother spoke of a traumatic phone call with her son.
"He told me the ship was tilted over and he couldn't see anything. He said "I haven't put on the life jacket yet", and then the phone went dead," she told the South Korean Dong-A Ilbo newspaper.
Parents of those missing have expressed their fury at slow-acting officials and the lack of inforrmation provided.
"I am really angry with the government," said Kwak Hyun-ok, the mother of a passenger still missing.