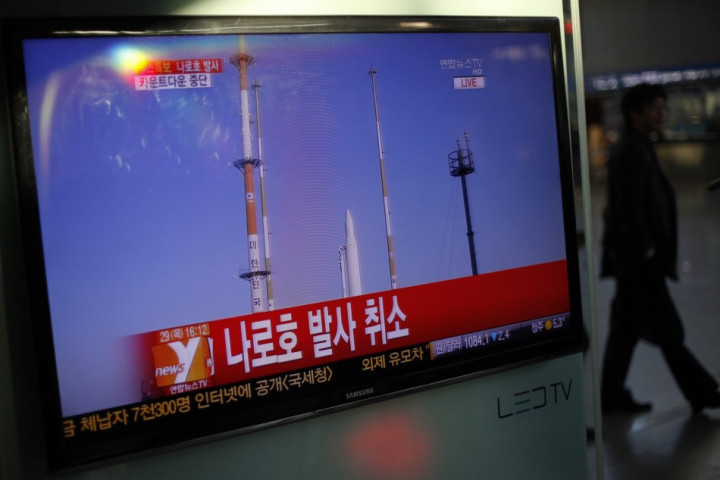 South Korea has cancelled its attempt to launch a space rocket to put a satellite in orbit from its own soil, considered a major step towards the country's development of space programme.
Scientists in South Korea cited technical problems in its flight control system as the reason for scrapping the launch of Korea Space Launch Vehicle-1 (KSLV-1), also known as Naro-1. The launch was aborted just 17 minutes before the scheduled launch at 04:00pm local time (07:00 GMT).
"Abnormal signals from the thrust vector system of the upper (second) stage rocket of Naro have been detected," said Cho Yul-rae, vice minister for science and technology.
It was the second time Seoul was cancelling the launch due to technical problems. The launch was originally scheduled in October. South Korea said the satellite was intended for collecting climate data.
However, the officials did not announce any future date for a fresh attempt. "Future plans will be announced later after more thoroughly investigating the problem," Science Minister Lee Ju-ho told reporters.
The first stage of Naro-1 rocket with a 170-ton thrust engine was built by Russia's Khrunichev State Research and Production Space Center while the second stage was indigenously built by South Korea. The Russian agency provided the first stages of the previous two failed attempts, once in 2009 and then again in 2010.
Meanwhile, there were reports that South's arch rival North Korea is also planning a rocket launch. Images collected by satellite operator DigitalGlobe showed an increased activity in the North's Sohae Satellite Launch Station.
"Given the observed level of activity noted of a new tent, trucks, people and numerous portable fuel/oxidiser tanks, should North Korea desire, it could possibly conduct its fifth satellite launch event during the next three weeks," said Digital Globe.