US and South Korea Preparing for Attack from North with Joint Military Exercise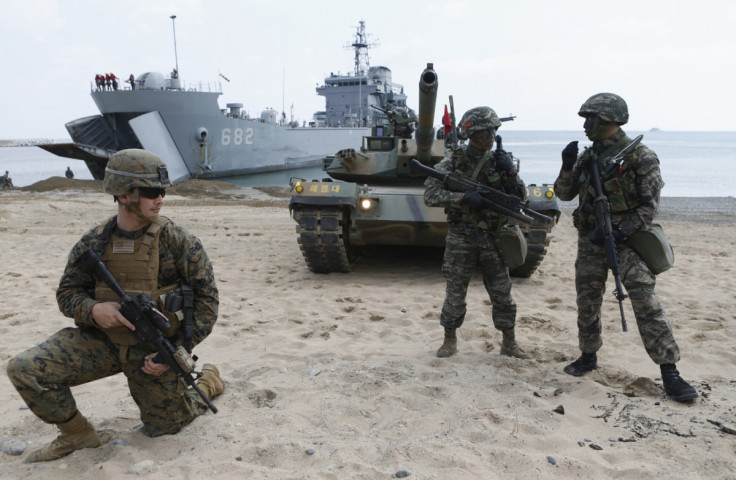 The US and South Korea have kicked off their annual military drill alongside the ongoing family reunions between the two Koreas.
The military exercises are said to have been kept relatively low-key so as not to jeopardise the family reunions of Koreans, many of whom have been separated since the 1950-53 Korean War.
With nearly 200,000 South Korean and 13,000 American troops, it is one of the largest military exercises conducted annually by the two countries - and is being conducted despite strong warnings from Pyongyang.
The manouevres include Foal Eagle, a holistic exercise comprising air, ground and naval drills as well as war-time scenarios, such as military provocations or a nuclear attack by North Korea.
Another exercise, Key Resolve, is reportedly set to simulate at least 30 different types of North Korean provocations.
Both Washington and Seoul have defended the drill, which will continue until 24 April, as part of a training exercise but Pyongyang has labelled it a war rehearsal.
"South Korea and the US will go ahead with the Key Resolve and Foal Eagle exercises as planned, without readjusting the schedule and the scope," said South Korean defence ministry spokesperson Kim Min-seok prior to the start.
"As of now, there are no unusual movements from North Korea. We will only take action against North Korea if it makes provocations or denunciations."
Meanwhile, an outpouring of emotions has marked the reunion of hundreds of South Koreans with their relatives in North Korea's Mount Kumgang resort.
Only a few of the millions who remain separated have thus far been able to meet their relatives. Among them was 80-year-old South Korean Lee Yik-kyu who came face to face with his brother Ri In Gyu, 83, who was captured by North Korean troops during the war.
"Are you my brother?" Lee has been quoted as asking. "It's Yik-kyu."
© Copyright IBTimes 2023. All rights reserved.