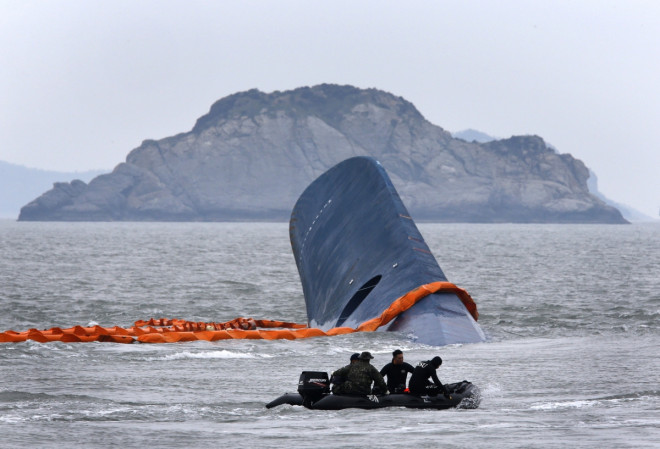 The captain of a ferry that capsized off South Korea's southern coast is being investigated for abandoning a vessel, as it was reported he might have left the sinking ship with hundreds of passengers still on board.
Lee Joon Seok, 60, was questioned by coast guard officials investigating the incident, which left at least nine people dead with hundreds still missing.
"I am really sorry and deeply ashamed," he told a mob of reporters while hiding his face beneath a grey hoodie. "I don't know what to say."
Local media reports claimed that Lee was among the first to evacuate the Sewol, a 146-meter (480-foot) vessel, having previously told passengers to put on life jackets and stay put.
Oh Yong-seok, a 58-year-old crew member, said that the captain initially instructed passengers, the majority of whom were students on a school trip, to put on life jackets and remain inside because officers on the bridge were attempting to stabilize the vessel.
Only about half-an-hour later, as the manoeuvres did not work, the evacuation was ordered.
By then it was, however, impossible for crew members to move into passengers' rooms and help them out because the ship was tilted at an impossibly acute angle, Oh said.
"We couldn't even move one step. The slope was too big," said Oh, who escaped with the captain and other crew members.
The delay in giving the order to evacuate, which many passengers said they did not even hear, is believed to have caused some 290 people to remain trapped inside as the ship went down.
"The rescue wasn't done well. We were wearing life jackets. We had time," 36-year-old survivor Koo Bon-hee said.
"If people had jumped into the water ... they could have been rescued. But we were told not to go out."
A total of 475 people, including 325 students, were aboard the Sewol as it sank near the southern city of Mokpo.
The ferry was on a 14-hour journey from Incheon, in the northwest of the country, to the tourist island of Jeju.
The South Korean coast guard said 179 people have been rescued alive so far.
The cause of the sinking is not yet known.