South Korean hospital fire kills at least 33, president holds emergency meet
The death toll is expected to rise further as many of the injured are in critical condition.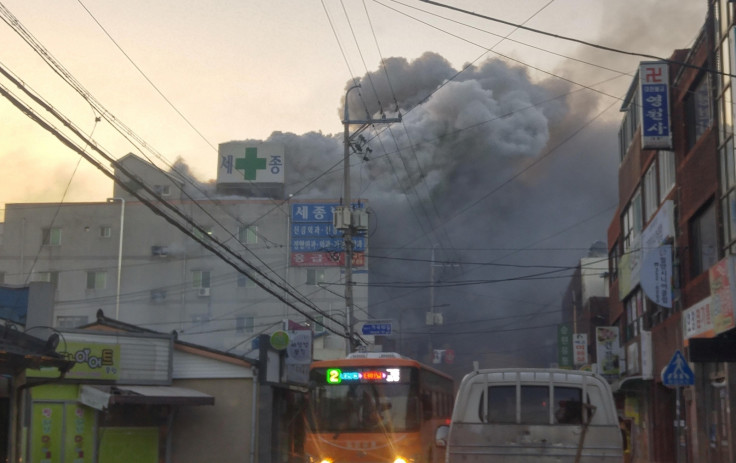 South Korean President Moon Jae-in has convened an emergency meeting with his senior officials over a hospital fire tragedy that has killed at least 33 people. Scores of others were also injured when the blaze engulfed major sections of the Sejong Hospital in the southeastern city of Miryang early on Friday, 26 January.
Firefighters battled for nearly two hours to bring the inferno under control. The death toll is expected to rise further as many of the injured are in critical condition. The exact cause of the fire is not known as yet and the facility is located about 380kms from capital Seoul.
Prime Minister Lee Nak-yon has ordered government officials to step up their efforts deploying more resources. South Korea's interior minister is also heading to the scene to oversee emergency measures.
Initially, the fire broke out on the first floor of the six-storey building. Most of the victims are thought to be from the critical care unit in which the patients could not move without help. Many of the deceased victims are thought to have inhaled toxic smoke.
It is still unclear whether any of the staff are among the casualties. "Most of the victims were found in the emergency ward on the first floor of the building. Others were found on the second and fifth floors," said Choi Man-woo, chief of the Miryang Fire Department.
Local reports say there were around 200 patients – including the 100 in an adjoining facility – at the time of the incident. Dozens of others have been evacuated to safety by firefighters.
This is the second such major fire tragedy to hit South Korea within weeks. In December, a blaze in a public sports centre killed as many as 29 people in Jecheon city.